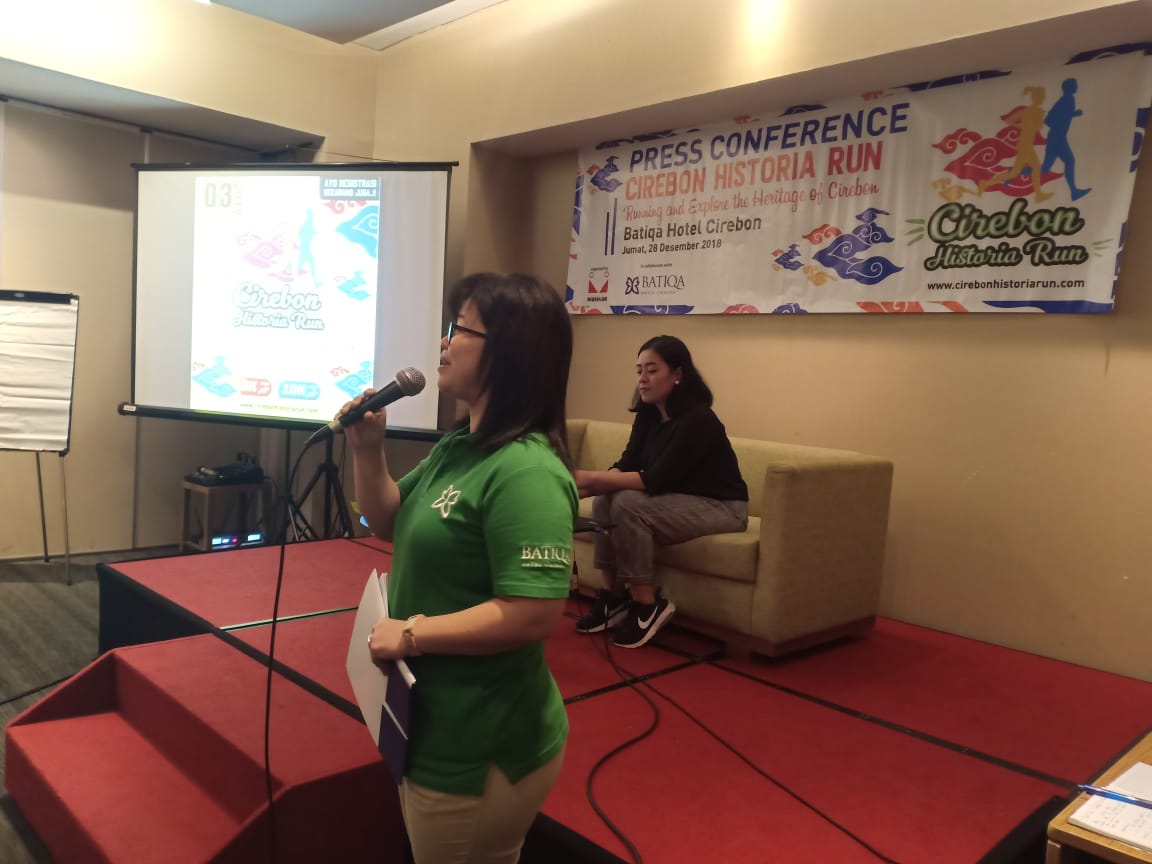 Cirebon, 28 Desember 2018 – BATIQA Hotel Cirebon akan menggelar lomba lari bernama "Running and Explore the Heritage of Cirebon". Lomba lari ini merupakan acara pertama di Kota Cirebon yang memadukan unsur olahraga dan sejarah. Acara ini akan dilangsungkan pada Minggu, 3 Februari 2019. Terdapat dua kategori yang diperlombakan, yaitu kategori 5K dan kategori 10K dengan titik start-finish di BATIQA Hotel Cirebon, Jl.Cipto Mangunkusumo No.99.
Untuk pelaksanaannya, BATIQA Hotel Cirebon bekerjasama dengan PT. Mahanaim Cipta Kreasindo selaku event organizer. Pada acara press conference yang dilaksanakan di BATIQA Hotel Cirebon, pihak event organizer menerangkan beberapa lokasi yang akan dilalui oleh peserta yaitu Keraton Kasepuhan, bangunan bekas pabrik rokok, Stasiun Prujakan, beberapa kuil, serta pasar rakyat.
Pada kesempatan yang sama, General Manager BATIQA Hotel Cirebon Catleya Parengkuan menyatakan dukungannya pada kegiatann ini. Dia juga berharap agar acara ini dapat menjadi agenda tahunan Kota Cirebon yang mampu mendekatkan masyarakat Kota Cirebon dengan olahraga.
Guna menarik peserta, BATIQA Hotel Cirebon menawarkan promo menarik dengan harga khusus berupa bundling kamar dan tiket lari. Selain itu, bagi komunitas yang tertarik juga akan mendapatkan diskon sebesar 10-20%.
Bagi masyarakat umum yang tertarik mengikuti acara ini dapat langsung melakukan registrasi melalui website resmi www.cirebonhistoriarun.com . Bagi peserta yang mendaftar hingga tanggal 10 Januari 2019 akan mendapatkan harga early bird. Untuk kategori 5K harga early bird adalah sebesar Rp 150.000, sementara untuk kategori 10K adalah sebesar Rp 200.000. Setelah periode early bird selesai, harga akan mengalami perubahan di kedua kategori tersebut yaitu Rp 250.000 untuk kategori 5K dan Rp 300.000 untuk kategori 10K.