Tahun ini merupakan tahun ke-4 The Body Shop berperan sebagai official make up dan make up artist di Jakarta Fashion Week (JFW). Sebanyak 80 make up artist diboyong produsen kosmetika asal Inggris ini demi menyukseskan JFW.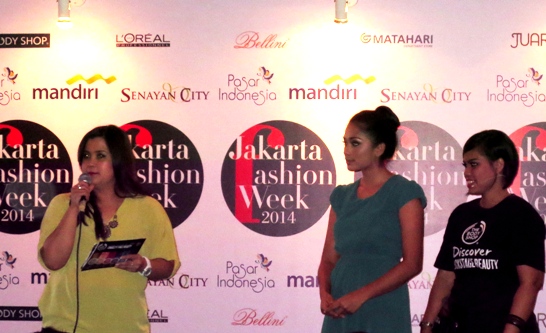 Ke-80 make up artist The Body Shop akan merias wajah para model untuk 77 rangkaian fashion show, karya kurang lebih 200 desainer dari dalam dan luar negeri.
"Semua make up artist ini berasal dari 96 store The Body Shop yang tersebar di seluruh Indonesia," kata Ratu Ommaya, PR and Values Manager The Body Shop.
Perempuan yang akrab disapa Maya ini menjelaskan, di setiap store The Body Shop selalu dilengkapi make up artist dan beauty care specialist, yang semuanya memiliki skill melakukan make over ke setiap konsumen yang datang.
Setiap tim store The Body Shop mendapat pelatihan tentang kecantikan, mulai dari perawatan kulit, make -up, fragrance (wewangian).
"Dari tiga bidang ini nanti akan ketahuan mereka jagonya di mana. Mereka-mereka itu sudah bisa disebut sebagai beauty care specialist. Sedangkan untuk make up artist ada lagi serangkaian training supaya mereka punya sklill yang lebih advance," ucapnya.
Di tahun pertama The Body Shop mensponsori JFW, mereka  hanya ikut setengah dari event. Di tahun ke-2 make up artist The Body Shop dirasa sudah siap secara mental dan skill untuk make over, sehingga ikut full satu minggu. Tahun ke-3, ada 60 make up artist yang diturunkan dan saat ini jumlahnya meningkat menjadi 80 make up artist. "Semakin banyak desainer yang ikut, maka semakin banyak dibutuhkan make up artist."
Maya mengakui, tujuan The Body Shop mensponsori JFW adalah memperkenalkan produk mereka, terutama produk make up.
"Kami kan punya lini produk yang lengkap dari head to toe (ujung kepala hingga ujung kaki). Selama ini yang paling banyak di sorot adalah produk body care kami seperti body lotion, body butter kami. Padahal kami juga punya make up dan inilah yang kami perkenalkan di JFS," tambah Maya. (EVA)