Presentasi hasil penelitian pada acara MoC Faculty Workshop di Havard Business School, 10 Desember 2018
Institute for Strategy and Competitiveness, lembaga nirlaba riset dan pendidikan dengan fokus ilmu daya saing di bawah Harvard Business School yang didirikan oleh Professor Michael Porter, kembali menyelenggarakan acara tahunan Microeconomics of Competitiveness (MOC) Faculty Workshop yang diadakan di Kampus Harvard Business School, Cambridge, Massachusetts, AS, tanggal 10-12 Desember 2018.
Acara tahunan ini merupakan ajang pertemuan bagi para dosen dan pimpinan sekolah bisnis terbaik dunia yang tergabung dalam jaringan afiliasi internasional MOC, di mana IPMI International Business School merupakan salah satu anggota jaringan tersebut.
Tahun ini adalah kali ketiga IPMI mengikuti acara MOC Faculty Workshop di Harvard Business School. Pada tahun 2017 dalam acara pertemuan anggota jaringan afiliasi internasional chapter Asia, Jimmy Gani, Executive Director & CEO IPMI, terpilih sebagai Chairman dari Asia Chapter oleh para anggota yang tergabung.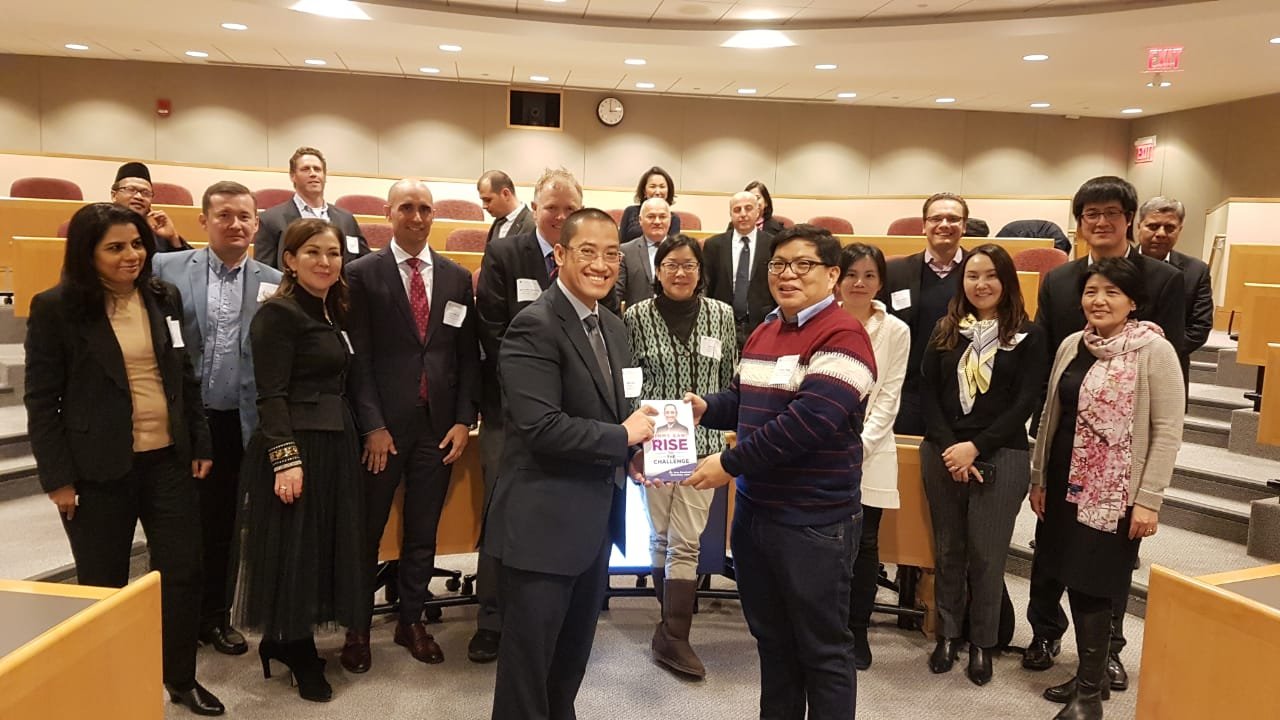 Penyerahan tampuk kepemimpinan Jaringan Afiliasi Internasional MOC Chapter Asia dari Jimmy Gani (IPMI International Business School, Indonesia) kepada Dr. Alvin Ang (Ateneo De Manila University, Filipina) di Harvard Business School pada tanggal 10 Desember 2018.
Selama kepemimpinan setahun terakhir sebagai Chairman Chapter Asia, Jimmy Gani dan IPMI International Business School berhasil mengorganisir konferensi akademik pertama kalinya dari MOC Asian Chapter yang dilaksanakan pada Juli 2018 di Kampus IPMI Jakarta yang dihadri sekitar 100 dosen, peneliti, pengusaha, mahasiswa asal Indonesia, Malaysia, Korea Selatan, Kazakhstan, Filipina, Amerika Serikat, Inggris Taiwan, Cambodia, Thailand dan lainnya.
Dalam upacara sederhana di Harvard Business School pada tanggal 10 Desember 2018 di Kampus Harvard University, Jimmy Gani menyerahkan tampuk kepemimpinan Jaringan Internasional MOC Chapter Asia kepada Dr. Alvin Ang dari Ateneo De Manil University, Filipina, yang akan meneruskan kepemimpinan untuk satu tahun ke depan. Berbagai sekolah bisnis di Asia berencana untuk melakukan kolaborasi dalam riset dan pendidikan di bidang daya saing dalam setahun ke depan ini.
Perhelatan tahunan di Harvard Business School kali ini dihadiri  157 peserta dosen dan pimpinan 86 sekolah bisnis terbaik dari 53 negara, yang berkumpul untuk mendengarkan dan berbagi mengenai hasil riset terbaru dalam bidang ilmu competitiveness (daya saing). Selain itu para peserta juga bercerita mengenai perkembangan-perkembangan terbaru dalam ilmu daya saing di berbagai negara. Selama acara, para peserta dibekali studi kasus, metode terbaru dalam pembelajaran kelas Microeconomics of Competitiveness.