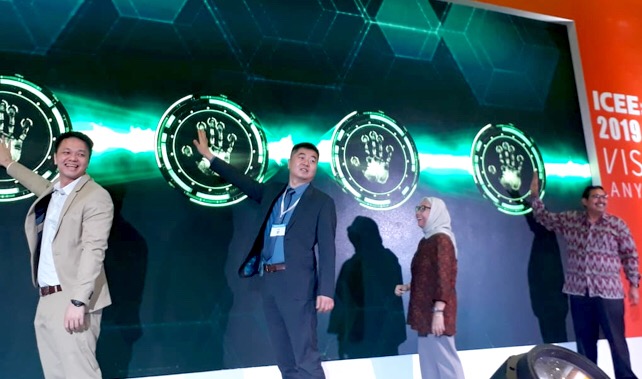 Ajang Indonesia Consumer Electronics Expo (ICEE) yang digelar 17-19 Desember ini didominasi produsen consumer electronics (CE) asal Tiongkok. Dari pantauan SWA saat pembukaan ICEE 2019, sebagian besar booth diisi oleh peserta dari Shenzhen, Tiongkok yang saat menjadi pusat teknologi yang sangat berkembang pesat terutama di kawasan Asia.
Beragam teknologi CE kekinian dipamerkan di Hall B, JCC Jakarta, seperti communication products and accessories (mobile, battery, power bank, charger, cable, communication accessories); computer, computer hardware and software and other peripherals (PC, laptop, tablet, display devise, speaker, keyboard, mouse, remote control, headphone, data storage devise); the internet of things atau IoT (smart home, smart city, smart medical, smart industry, automatic identification, technology, mobile payment technology).
Selain itu ada juga, produk gaming, gaming player and other peripherals (game, e-sports, gaming devise, VR); wearables (smart watch, smart helmet, smart glass vehicle technology); vehicle electronics, other peripherals; family and lifestyle (home theatre system, home appliance, smart security, digital products); emerging technology (3D Printer, AI); unmanned system (drone, unmanned vehicle, unmanned system and device); portable electronic, products and accessories (bluetooth products, e-book reader, audio and video player, touch pen).
Menurut Sutardi CEO Kreen, -penyelenggara ICEE 2019, dari 200 exhibitor, 70% berasal dari Tiongkok dan 30% merupakan startup lokal. Ajang ini digelar untuk memperluas jaringan para pengusaha dalam menjalin kerja sama bisnis, pameran ini diyakini akan menjadiplatform yang baik bagi perusahaan produsen dan buyer dalam mengembangkan usahanya seiring menuju industri 4.0.
Menurut Deputi Bidang Promosi Penanaman Modal BKPM, Farah Ratnadewi Indriani, dengan diadakannya acara ICEE 2019 ini, diharapkan bisa mendatangkan investasi asing masuk ke Indonesia, khususnya dari Tiongkok, di mana saat ini investasinya mencapai US$ 13,51 miliar. Hal ini untuk mendongkrak target pemerintah untuk meningkatkan realisasi investasi mencapai Rp 792 triliun.
Untuk mencapai realisasi investasi, menurut Farah, berbagai pihak harus ikut membantu pencapaian tersebut, tak terkecuali pihak pembuat kebijakan sendiri. "Melalui ajang ICEE, kami memikirkan bagaimana bisa menggaet investor asing ke Indonesia dan berpartner, baik UKM atau pun yang lainnya," katanya.
Sutardi menambahkan, ajang ini bisa menjadi platform perdagangan bagi pembeli dari Indonesia dan negara-negara tetangga untuk bertemu pemasok global produk-produk berkualitas. "Kami tidak menargetkan value dari transaksi ini, tapi paling tidak targetkan kami akan ada 300 business matching, antara pasar lokal dengan pihak internasional," katanya.
Shelley Yu, Direktur Penjualan Sree Technology Ltd. salah satu peserta ICEE asal Shenzhen, Tiongkok
Sebagai peserta pameran asal Shenzhen, Shelley Yu, Direktur Penjualan Sree Technology Ltd., menyatakan. sebagai perusahaan teknologi, peluang Indonesia sangat besar untuk memasarkan produk smart home berbasis teknologi Artificial Intelligence (AI), sehingga berbagai aktivitas bisa dikendalikan via aplikasi di smartphone. 
Melalui pameran ini, Sree Technology Ltd akan menjajaki pasar di Indonesia. Bahkan pihaknya sedang mencari mitra untuk menjadi distrubutor ataupun agen untuk memasarkan produknya di Indonesia. Mengingat produknya banyak diminati di Amerika Serikat, tapi akibat perang dagang AS dan China, Sree menjajaki produknya untuk pasar Afrika dan Asia.