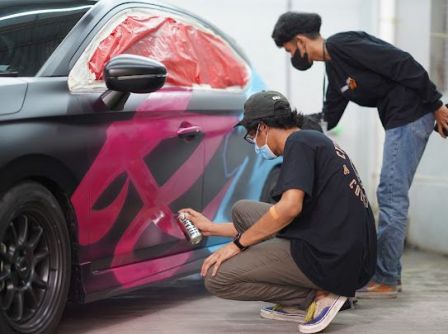 PT Honda Prospect Motor kembali berpartisipasi pada ajang Indonesia Modification Expo (IMX) 2021 yang diadakan secara virtual. Pada acara ini, Honda akan menampilkan Honda City Hatchback RS yang telah dimodifikasi khusus oleh pengepul mobil sebagai bagian dari National Modificator and Aftermarket Association (NMAA) yang berkolaborasi dengan Nevertoolavish.
Pengepul mobil melakukan modifikasi pada mobil Honda City Hatchback RS pada bagian velg, ban, knalpot, suspensi, body kit serta eksterior yang dibalut dengan stiker berwarna hitam, sedangkan Nevertoolavish menambahkan desain grafiti berwarna cerah di seluruh bagian bodi mobil. Sebelumnya, Nevertoolavish membuat sketsa desainnya secara langsung di Honda Dreams Café, Senayan Park pada 11 September 2021 lalu.
Booth Honda yang ditampilkan secara virtual menampilkan desain khas Honda yang unik, sporty dan stylish dengan beberapa aksen lampu neon di sekitarnya yang menampilkan Honda City Hatchback RS, mobil yang disukai oleh kaum muda. Selain menampilkan mobil Honda City Hatchback RS, pengunjung yang telah membeli tiket pun dapat menyaksikan Virtual Stage Preview yang dapat disaksikan pada 2 Oktober 2021, pukul 14.22 WIB. Pada sesi ini, Nevertoolavish serta Pengepul Mobil akan menjelaskan lebih lengkap mengenai kolaborasi desain serta modifikasi Honda City Hatchback RS yang mereka lakukan.
Yusak Billy selaku Business Innovation and Sales & Marketing Director PT Honda Prospect Motor mengatakan, setelah diluncurkan pada bulan Maret 2021 lalu, Honda City Hatchback RS telah banyak mendapatkan perhatian serta antusiasme yang sangat baik di kalangan masyarakat khususnya kaum muda. "Kali ini kami ingin membawa mobil ini untuk dikenal lebih jauh oleh para pecinta modifikator Indonesia. Dengan kembali berpartisipasi pada IMX 2021, kami ingin turut mendukung industri kreatif terutama dalam bidang otomotif, dan memberikan inspirasi untuk kaum muda dapat berkarya mengasah kemampuan mereka," utamanya.
Editor : Eva Martha Rahayu
www.swa.co.id