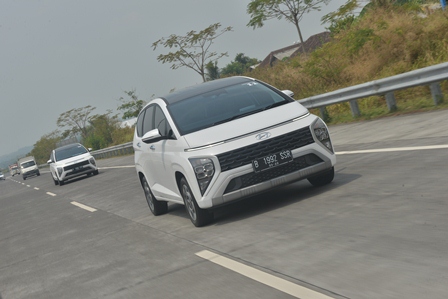 Tak berselang lama setelah resmi Hyundai Stargazer diluncurkan, PT Hyundai Motors Indonesia (HMID) langsung tancap gas dengan menggelar media drive bertajuk "Stargazer Driving Day: a Journey with The Star" pada 5-7 September 2022.
Dalam ajang test drive yang diikuti 60 orang media dari berbagai daerah di Indonesia dan juga pegiat otomotif ini menempuh rute Surbaya-Malang, Jawa Timur; Malang- Surabaya; dan Surabaya-Solo, Jawa Tengah yang totalnya menempuh jarak sekitar 500 Km. Awak Media SWA pun turut hadir dalam acara ini dan merasakan langsung performa Stargazer.
Dengan menghadirkan 20 unit Stargazer tipe Prime (tipe tertinggi yang dibandrol Rp 307.100.000, OTR Jakarta), para awak media dan pegiat otomotif bisa merasakan kendaraan low MVP bermesin 1.497 cc ini dari berbagai aspek, mulai dari akselerasi, performa mesin, fitur keamanan dari Hyundai Smartsense, hingga connected car service, yaitu Hyundai Bluelink.
Perjalanan yang melewati rute jalan bebas hambatan (tol), jalan menanjak, menurun, sempit, hingga berliku ini langsung mengeksplorasi kemampuan mesin IVT untuk mendukung efisiensi konsumsi bahan bakar mobil ini.
Makmur, Chief Operating Officer HMID mengatakan Stargazer diluncurkan untuk menjawab kebutuhan dan karakteristik keluarga Indonesia yang dirancang dengan suasana kabin yang lapang, pemanfaatan ruangan yang maksimal, dan tetap memprioritaskan kenyamanan serta keamanan berkendara. "Melanjutkan sambutan hangat sejak pertama kali diluncurkan, kami berharap ke depannya dapat memperkenalkan produk flagship MPV, yakni Stargazer ini dan ragam keunggulan yang dibawanya untuk keluarga Indonesia," katanya.
Tampilan Eksterior dan Interior Stargazer