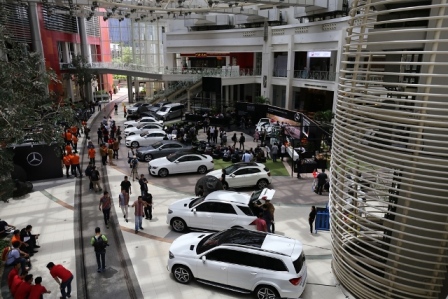 Tahun 2017 lalu, Mercedes-Benz Indonesia Group sukses mempertahankan posisinya yang terdepan di segmen kendaraan premium. Pabrikan otomotif asal Jerman tersebut mampu menjual mobil sebanyak 4.722 unit dengan rincian 3.386 mobil penumpang dan 1.336 kendaraan niaga.
Pertumbuhan angka penjualan pada divisi kendaraan penumpang tahun lalu didorong oleh penjualan E-Class dan SUV. Penjualan SUV meningkat 14% dibanding tahun 2016. Sedangkan sedan seri C-Class merupakan mobil yang penjualannya paling sukses di Indonesia dan memberikan kontribusi 28%--pada penjualan Mercedes di Indonesia. Perolehan ini menjadikan Mercedes Benz menjadi merek premium paling sukses di industri otomotif di Tanah Air.
Menurut Roelof Lamberts, Presiden dan CEO PT Mercedes-Benz Distribution Indonesia (MBDI), kesuksesan penjualan pada 2017 menjadi langkah bagi pihaknya untuk meningkatkan layanan kepada para pelanggan di tahun 2018. "Kami akan memberikan produk-produk terbaik kepada pelanggan dan calon konsumen Mercedes lewat model baru seperti all new A-Class, the all-new CLS dan the new G-Class. Selain itu kami juga berinvestasi pada Best Customer Experience," terang Lamberts.
Sedan seri C atau C-Class tahun lalu telah tejual 900 unit. Model yang tak kalah larisnya adalah E-Class. Maret 2017 lalu MBDI telah meluncurkan E 250 Avantgarde Line dan E 300 AMG Line yang dirakit di Tanah Air. Respons konsumen sangat bagus. Karena selain fitur-fiturnya tak kalah dengan yang diimpor utuh (CBU), mobil ini dirakit sesuai dengan permintaan pelanggan Mercedes di Indonesia.
Produk lain yang memberikan kontribusi cukup besar pada penjualan Mercedes adalah SUV. Hampir sepertiga produk yang dijual adalah SUV, seri GLC dan GLE rakitan lokal. Kesuksesan dari penjualan itu lantaran adanya faktor keselamatan, kualitas desain modern dan inovasi yang berorientasi pada masa depan."Tahun ini kami akan menwarkan mobil yang tepat unutk para pelanggan. Secara keseluruhan kami akan meluncurkan lebih dari 10 model baru," tutur Kariyanto Hardjosoemarto, Deputy Director Sales Operations and Product Management MBDI.
www.swa.co.id