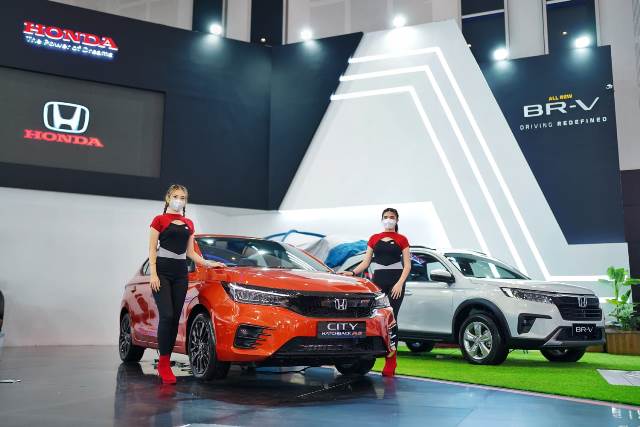 Honda kembali meramaikan ajang GIIAS Surabaya Auto Show 2022 yang berlangsung mulai 14 – 18 September 2022, di Grand City Convention and Exhibition, Surabaya. Dalam ajang ini, Honda menampilkan produk-produk terbarunya termasuk model yang akan menjadi SUV terbaru.
Booth Honda berlokasi di Booth A dengan lahan seluas 330m2 menampilkan jajaran produk terbaru termasuk All New Honda HR-V RS, All New Honda BR-V Prestige with Honda Sensing, Honda City Hatchback RS with Honda Sensing, New Honda Brio RS Urbanite, All New Honda BR-V tipe E, dan New Honda CR-V Black Edition. Sebagai display istimewa, sebuah model yang akan menjadi SUV terbaru Honda juga tampil di GIIAS Surabaya.
Mobil ini sebelumnya ditampilkan untuk pertama kalinya di dunia pada ajang GIIAS 2022 di ICE, BSD bulan Agustus. Setelah itu, mobil ini juga telah dibawa ke sembilan kota di Jawa Barat dan juga Jawa Tengah dan mendapat sambutan antusias dari konsumen di berbagai kota. Setelah melalui serangkaian tes jalan dan roadshow ke berbagai kota, kini calon SUV terbaru Honda ini sudah selangkah lebih dekat menuju tahap peluncuran.
Dikembangkan dari SUV RS Concept, model SUV compact dari Honda ini tampil dengan karakter yang lebih sporty yang menjadi ciri khas dari lini RS Honda. Tampilan eksterior yang sporty tersebut dipadukan dengan desain sebuah SUV dengan garis-garis tegas, grill berukuran besar dengan desain modern, desain lampu depan dan belakang yang atraktif, serta roda berukuran besar yang semakin mempertegas kesan tangguh dari mobil ini. Sementara itu, ukurannya yang compact menjadikannya lebih fleksibel untuk jalanan urban dan suburban.
Ang Hoey Tiong, Presiden Direktur Honda Surabaya Center mengatakan, ajang GIIAS 2022 akan disambut baik oleh konsumen di Surabaya, terutama dengan berbagai produk unggulan Honda, termasuk calon SUV terbaru yang akan menjadi daya tarik bagi pengunjung. "Berbagai program penjualan yang telah kami siapkan juga akan semakin memberikan nilai lebih sekaligus memudahkan konsumen untuk memiliki mobil Honda," katanya.
Honda Surabaya Center juga mempersiapkan exclusive merchandise khusus untuk pengunjung yang melakukan test drive unit All New Honda BR-V dan Honda City Hatchback RS selama berlangsungnya pameran GIIAS Surabaya Auto Show 2022 di Booth Honda.
Untuk mengikuti test drive ini, pengunjung hanya perlu melakukan registrasi melalui aplikasi GIIAS Auto360 yang dapat diunduh di app store atau playstore, membawa bukti registrasi ke booth Honda, dan mem-follow akun media sosial Honda.