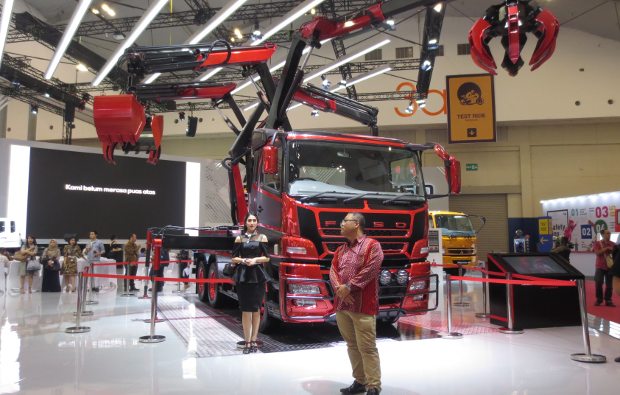 Mitsubishi Fuso meraih penghargaan sebagai juara 1 Booth Favorit di ajang pameran otomotif GIIAS 2018, di BSD, Tangerang Selatan. Kemenangan ini adalah yang ketiga kalinya i dan berharap tema booth Absolute Profesional dapat melayani pengunjung secara profesional.
Produk truk Super Great V Spider pun meraih penghargaan sebagai juara 1 Kendaraan Komersial Terfavorit dari hasil survei pengunjung GIIAS 2018.
PT Krama Yudha Tiga Berlian Motors (KTB), distributor resmi kendaraan Mitsubishi Fuso di Indonesia, mengaku senang dengan apresiasi ini. Bertempat di hall 3A, hari penutupan GIIAS 2018, pihaknya menorehkan prestasi dengan penghargaan "The 1st Winner of Favorite Booth – Commercial Vehicle" berdasarkan penilaian pengunjung GIIAS 2018.
Sudaryanto, Head of Promotion Department of KTB, mengatakan, " Penghargaan ini merupakan apresiasi bagi kami karena proses penjurian betul-betul dilakukan oleh para pengunjung GIIAS dengan sistem kuisioner. Jadi dapat disimpulkan bahwa, booth Mitsubishi Fuso mendapatkan perhatian pengunjung dan memberikan kenyamanan bagi para konsumennya."
"Super Great V – Spider merupakan kendaraan konsep yang kami bawa langsung dari Jepang khusus ditampilkan untuk meramaikan GIIAS 2018. Sejak awal kami sangat yakin truk ini akan menjadi sorotan bagi para pengunjung GIIAS serta sangat cocok melambangkan tema Absolute Proffesional yang kami usung tahun ini", ujar Puja Hatigoran, Head of Public Relations Section KTB.
Ajang GIIAS 2018 akan di tutup pada 12 Agustus 2018. Mitsubishi Fuso berharap event GIIAS 2018 dapat di manfaatkan sebagai ajang untuk memperkenalkan produk, layanan, serta komunikasi profesional Mitsubishi Fuso bagi para pebisnis profesional yang hadir di booth.
www.swa.co.id