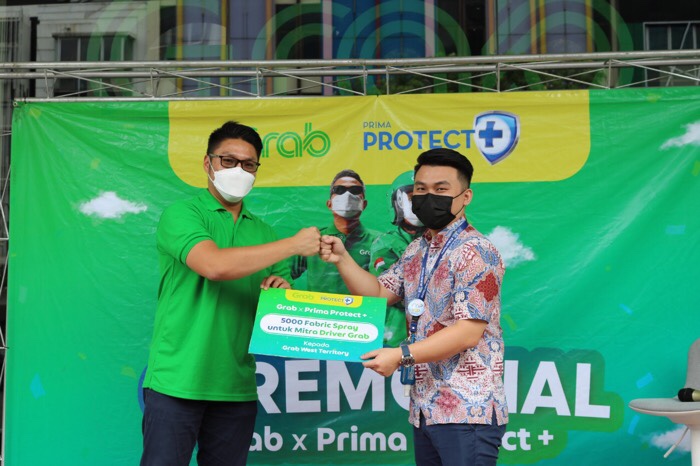 Grab Indonesia bersama Prima Protect Plus, produk sanitasi dari OT Group membagikan 5.000 paket sanitasi berupa fabric mist kepada para mitra driver. Kerja sama bertajuk 'Grab Rainy Season' ini dilakukan di sejumlah daerah operasional Grab yang tersebar di Sumatera, Jawa Barat, dan Jawa Tengah selama bulan November dan Desember 2021. Tujuannya mendukung aktivitas mitra pengemudi yang berangsur normal setelah melewati masa-masa sulit selama pandemi Covid-19.
Kasus baru Covid-19 yang turun secara signfikan dalam beberapa bulan terakhir menjadi pendorong berputarnya kembali roda perekonomian masyarakat. Termasuk sektor jasa transportasi seperti Grab, seiring mobilitas masyarakat yang mulai meningkat, maka para mitra pengemudi pun semakin membaik pendapatannya.
"Saat ini positivity rate di Indoneaia berada di bawah 1% selama beberapa bulan terakhir maka dapat disimpulkan pandemi Covid-19 di Indonesia cukup terkendali. Hal ini patut disyukuri karena kondisi kesehatan dan perekonomian juga berangsur pulih," ujar Harianus Zebua, Head of Corporate and Marketing Communication OT Group kepada media melalui siaran pers.
Namun kita tidak boleh lalai, lanjutnya, protokol kesehatan harus tetap dijalankan dengan disiplin. Menurutnya kerja sama Prima Protect Plus dengan Grab Indonesia merupakan dukungan terhadap penerapan protokol kesehatan untuk mitra pengemudi dan masyarakat. "Kami berharap penerapan protokol kesehatan secara disiplin akan membantu Indonesia lepas dari pandemi Covid-19 ini," jelasnya.
"Ini merupakan kolaborasi ketiga Grab Indonesia dengan Prima Protect Plus , OT Group selama pandemi Covid-19. Kami sangat mengapresiasi pihak Prima Protect Plus yang tidak bosan-bosannya bermitra dengan kami untuk melakukan edukasi dan bersama-sama membantu pemerintah untuk mengatasi pandemi Covid-19," papar Zefanya Richard Aditya, Director West Territory Grab Indonesia.
Editor : Eva Martha Rahayu
wwww.swa.co.id