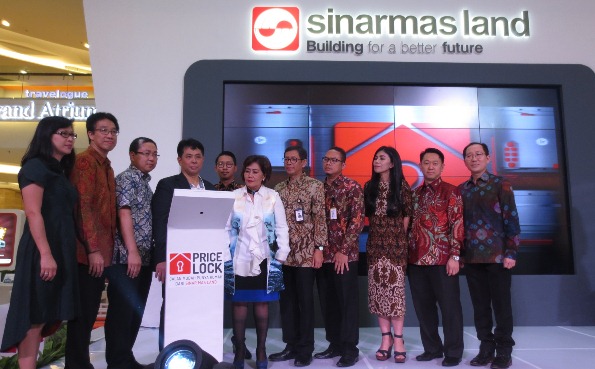 Setelah sukses membukukan penjualan Rp2,1 triliun untuk program Price Amnesty selama Oktober-Desember 2016, kini PT Sinar Mas Land (SML) merilis program Price Lock. Program baru yang berlangsung dari Oktober-Desember 2017 ini menargetkan transaksi Rp2 – 3 triliun dengan produk unggulan kavling di BSD City dan lokasi lain proyek SML berada.
Ishak Chandra, CEO Strategic Development & Sevices SML, menjelaskan, keunikan program ini antara lain: konsumen bisa membayar DP 15% dan dicicil 24 kali, ada "cuti bayar" karena prinsipal sisa 85% baru akan dibayar pada Januari 2020. Malahan, jika konsemuen melakukan pelunasan sebelum Januari 2019, harga diptong 5%.
Price Lock merupakan program akhir tahun Sinar Mas Land menggandeng 10 bank di Indonesia untuk mempermudah cara pembayaran yang akan diselenggarakan mulai 3 Oktober hingga 31 Desember 2017. Program spektakuler ini, menawarkan berbagai macam keuntungan yang menarik bagi para konsumen, mulai dari keringanan pembayaran down payment, diskon langsung hingga 20%, voucher, sampai grand prize 3 mobil senilai ratusan juta rupiah.
Produk-produk SML dalam program Price Lock meliputi proyek properti di BSD City, Balikpapan, Batam, Cibubur, dan bangunan komersial. Juga, Aerium, Akasa, Kota Wisata, Wisata Bukit Mas, Legenda Wisata, Banjar Wijaya, Grand City Balikpapan, Southgate, Casa De Parco, Taman Permata Buana, Navapark, The Elements, Klaska Residence, The Icon Business Park, Pasar Modern, Deltamas, Pesona Wisata Dunia Balikpapan serta Nuvasa Bay Batam.
"Ekspektasi kami melalui program Priice Lock ini adalah mendukung aspirasi konsumen supaya bisa mempunyai hunian yang mudah. Kesempatan menarik ini hanya berlangsung 3 bulan untuk semua proyek properti Sinar mas Land di seluruh Indonesia," jelas Ishak.
Mekanisme Price Lock