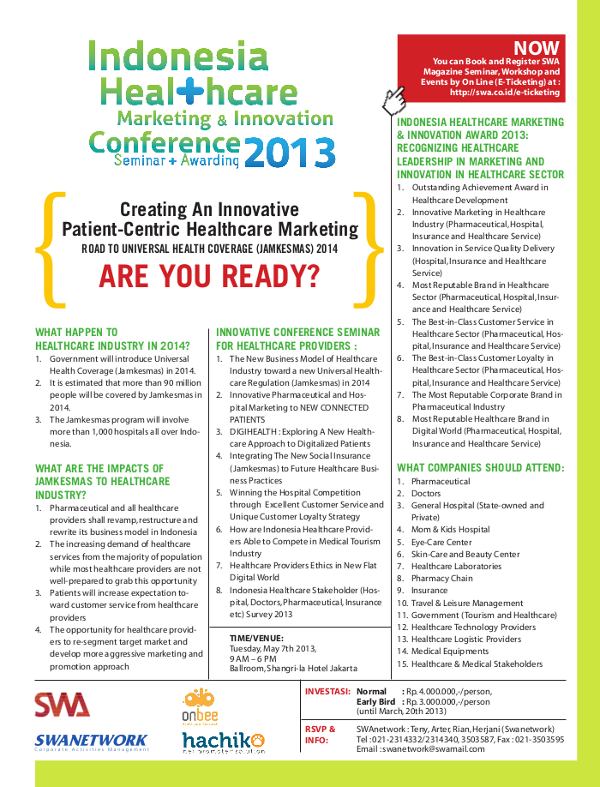 Indonesia Healthcare Marketing & Innovation Conference 2013
Creating An Innovative
Patient-Centric Healthcare Marketing
ROAD TO UNIVERSAL HEALTH COVERAGE (JAMKESMAS) 2014
ARE YOU READY?
What happen to Healthcare Industry in 2014?
1. Government will introduce Universal Health Coverage (Jamkesmas) in 2014.
2. It is estimated that more than 90 million people will be covered by Jamkesmas in 2014.
3. The Jamkesmas program will involve more than 1,000 hospitals all over Indonesia.
What are the impacts of Jamkesmas to Healthcare Industry?

1. Pharmaceutical and all healthcare providers shall revamp, restructure and rewrite its business model in Indonesia
2. The increasing demand of healthcare services from the majority of population while most healthcare providers are not well-prepared to grab this opportunity
3. Patients will increase expectation toward customer service from healthcare providers
4. The opportunity for healthcare providers to re-segment target market and develop more aggressive marketing and promotion approach
Innovative Conference Seminar for Healthcare Providers :