Indonesia International Institute for Life Science (i3L) mengadakan inaugurasi dan peluncuran Innovative Sweden 2014 pada hari Selasa (6/6). Acara Innovative Sweden ini akan berlangsung hingga 30 September 2014. Kedua kegitan tersebut diadakan di kampus i3L Jl. Pulomas Barat, kav. 88, Jakarta Timur.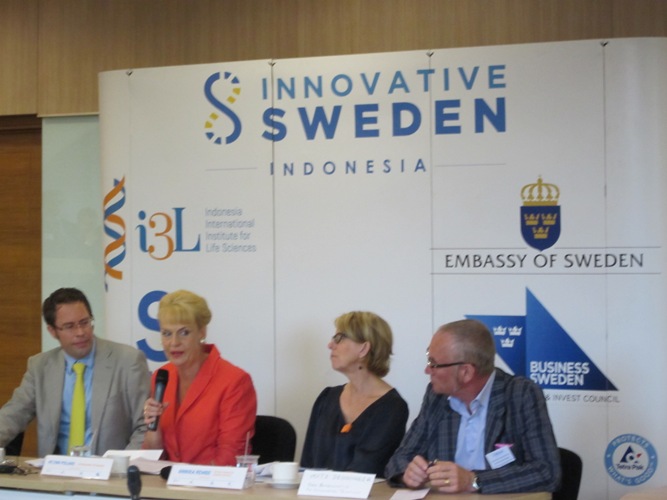 Acara tersebut dibuka oleh Profesor Niclas Adler, Presiden i3L dan HE Ewa Polano, Duta Besar Swedia. Menurut Ewa, Indonesia merupakan negara yang kaya akan sumber daya. Oleh karena itu, Swedia sangat tertarik untuk melakukan kerja sama dengan pemerintah Indonesia, terutama dalam bidang pendidikan.
Ewa melanjutkan, melalui kerja sama tersebut, maka tingkat pendidikan di Indonesia bisa ikut meningkat. "Ini merupakan kunci untuk teknolgi development. Dengan kerja sama ini, kami melihat pendidikan dan teknologi di Indonesia juga meningkat," katanya.
Ewa juga mengatakan ketertarikan negara Swedia untuk bekerja sama dengan Indonesia disebabkan oleh perkembangan ekonomi indonesia selama 10 tahun terakhir mengalami peningkatan. Pertumbuhan ekonomi Indonesia yang pesat membuat permintaan terhadap pendidikan menjadi besar. Oleh karena itu i3L didirikan sebagai institusi pendidikan life science di Indonesia. Kampus i3L ini menawarkan program studi S1 di bidang Food Science, Food Technology, Bio Medicine, Bio Technology, Bio Informatics, dan Bio Enterpreuneurship.
"Dengan keterlibatan peneliti kelas dunia dari Karolinska Medical University of Agricultural and Science, saya percaya bahwa i3L akan berkontribusi besar bagi Indonesia dalam rantai nilai global dan menjadi pemimpin riset dan inovasi global," papar Ewa.
Dalam kesempatan yang sama, Dr. Niclas Adler megatakan bahwa Indonesia memiliki kondisi yang unik. "Seperti kita ketahui, Indonesia memiliki keanekaragaman yang besar dan lebih lagi memiliki keanekaragaman hayati dasar laut terbanyak. I3L ada di Indonesia untuk memajukan Indonesia dalam riset dan menjadi institusi kelas dunia pertama di masa depan," kata Niclas.
Niclas percaya bahwa di masa yang akan datang, Indonesia bukan hanya menjadi negara pengguna, tapi juga akan menjadi negara penghasil atau produsen "Kondisi yang unik di Indonesia memiliki potensial untuk menjadi producer, tidak hanya menjadi user," ungkapnya.
Kegitan Innovative Sweden yang diselanggarakan oleh i3L tersebut merupakan acara yang membawa banyak inovasi dan teknologi ynag menunjukan bahwa Swedia merupakan bangsa yang mendapatkan keuntungan dari riset teknologi. Ada beberpa hasil riset teknologi yang di tampilkan pada acara tersebut, seperti prostetik arm, penjernih air tenaga surya, dan lain-lain. (EVA)