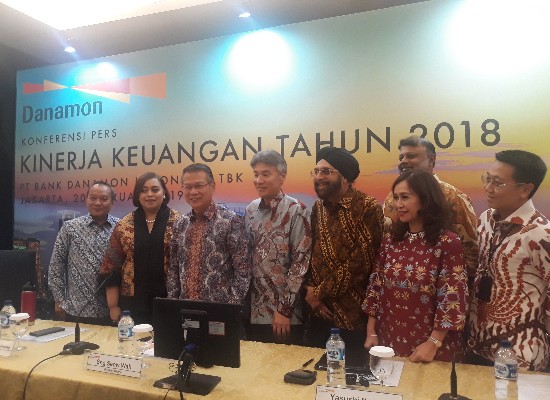 PT Bank Danamon Tbk menargetkan pertumbuhan kredit tahun 2019 akan di atas pencapaian tahun sebelumnya, yakni sekitar 10-12%. Hal itu disampaikan Chief of Financial Officer Bank Danamon, Satinder Ahluwalia saat pemaparan kinerja keuangan Bank Danamon 2018 di Jakarta (20/2/2019).
"Tahun 2019 kami kejar lebih tinggi dari 2018 lalu. Kami juga akan terus berupaya memperbaiki cost of credit ratio," ujar Satinder.
Sepanjang 2018 lalu Bank Danamon telah menggelontorkan kredit untuk usaha kecil menengah (UKM) sebesar Rp 31,2 triliun atau tumbuh 10% dari tahun 2017. Selain itu pertumbuhan kredit yang signifikan juga terjadi di kredit consumer mortage yakni 29% menjadi Rp 7,8 triliun. Enterprise banking, terdiri dari perbankan korporasi, korporasi, komersial dan institusi keuangan, juga tercatat tumbuh 11% menjadi Rp 41,5 triliun.
Untuk pembiayaan kendaraan bermotor, Adira Finance tumbuh 13% secara keseluruhan menjadi Rp 51,3 triliun pada akhir tahun 2018. Kenaikan dua digit ini didukung oleh pembiayaan baru Adira Finance yang tumbuh masing-masing sebesar 15% dan 23% untuk kendaraan roda dua dan roda empat.
Di luar perbankan mikro, total portofolio kredit dan trade finance tumbuh 12% menjadi Rp 137,2 triliun dibandingkan setahun sebelumnya.
Sementara itu rasio kredit 'Dalam Perhatian Khusus' membaik menjadi 9,8% dibandingkan 11,0% setahun sebelumnya. Kemudian, rasio kredit bermasalah (non-performing loans/NPL) ada di posisi 2,7% dibandingkan 2,8% di akhir tahun 2017. Rasio biaya kredit (cost of credit ratio) membaik menjadi 2,5% dibandingkan 2,8% pada tahun sebelumnya.
Sepanjang 2018 lalu bank juga berhasil mecatat pertumbuhan laba bersih sebesar 7% menjadi Rp 3,9 triliun.
Editor : Eva Martha Rahayu
www.swa.co.id