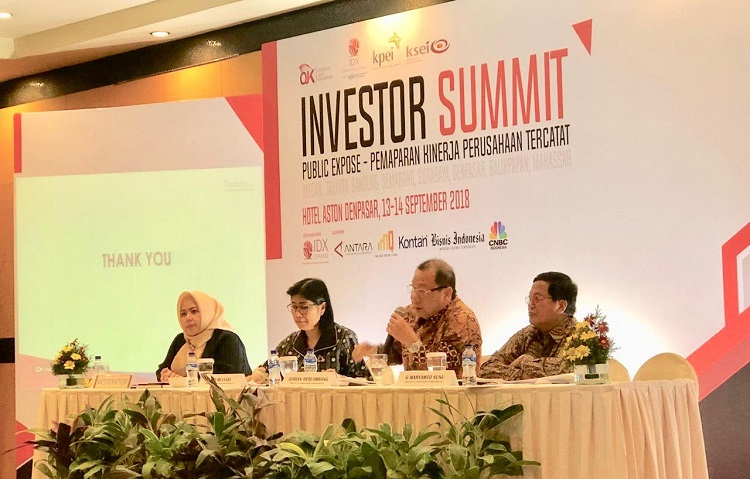 Public expose PT Dyandra Media International Tbk, (13/9).
Perusahaan yang bergerak di sektor Meetings, Incentives, Conferences, and Exhibitions (MICE), PT Dyandra Media International Tbk selama semester I-2018 mencatatkan peningkatan kinerja keuangan yang cukup signifikan. Dari perbandingan sales year on year, Dyandra berhasil mencatatkan peningkatan 14,66%, dengan gross profit tumbuh 19,47% dari tahun sebelumnya. Sementara operating profit tumbuh 250% dengan nett profit meningkat 200% dari periode yang sama tahun sebelumnya.
Ada pun EBITDA perseroan naik 161,5% menjadi Rp 68 miliar. Pendapatan ini secara keseluruhan merupakan hasil kontribusi dari setiap unit bisnis, dengan bisnis event and exhibition organizer business yang berkontribusi 67%, supporting event business 13%, venue owner and hall management business 12%, dan hotel/property owned business berkontribusi sebesar 8%.
Perusahaan milik Grup Kompas Gramedia ini sudah menyiapkan berbagai strategi untuk tetap menjaga kinerja operasional dan keuangan, yaitu mengembangkan pameran yang sudah dipegang setiap tahunnya dan menggelar pameran baru, mengembangkan bisnis entertainment, serta terus berinovasi dengan mencari klien-klien baru ataupun event di industri yang berbeda.
"Strategi lainnya, efisiensi dan pengendalian biaya yang berkelanjutan di berbagai aspek di seluruh unit bisnis perusahaan dan pengembangan bisnis baru, yaitu digital agency," kata Adrian Herlambang, Direktur PT Dyandra Media International Tbk dalam keterangan resminya, (13/9/2018).
Bisnis di bidang digital agency pun sekarang tengah diupayakan pemberdayaannya dengan membentuk perusahaan baru bernama Underlined. Perusahaan baru ini diharapkan akan menjadi one-stop solution untuk kebutuhan digital dari para klien, baik perorangan maupun perseroan, dari segi strategi maupun pengelolaannya dalam menghadapi era digital ini.
Dengan strategi bisnis yang sudah dirumuskan, proyeksi laporan keuangan di akhir tahun nanti diharapkan makin meningkat. Dari segi sales, misalnya, perseroan berharap bisa mencapai 6,7%, dengan gross profit meningkat mencapai 23,61%. Sedangkan dari sisi operating profit, proyeksi akhir tahun diharapkan dapat meningkat sebesar 1.050%, dengan net profit naik 188%.
Editor : Eva Martha Rahayu
www.swa.co.id