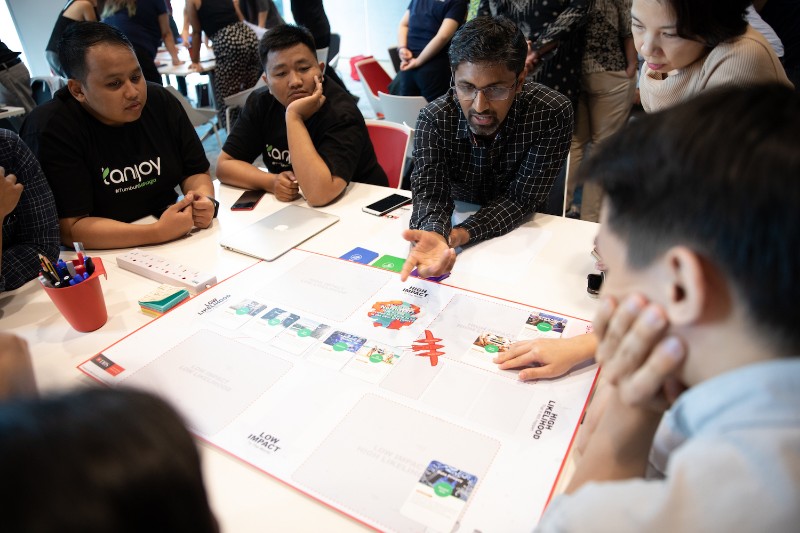 DBS Foundation, yayasan kewirausahaan sosial, mengajak wirausaha sosial di seluruh wilayah untuk mendaftar DBS Foundation Social Enterprise (SE) Grant 2020. Pemenang kompetisi ini akan mendapatkan dana hibah masing-masing senilai SGD 50.000 hingga 250.000.
DBS juga akan memberikan dukungan dengan meningkatkan
kemampuan wirausaha sosial melalui berbagai program dan platform mereka,
menyediakan peluang bisnis bagi wirausaha sosial dan membantu pengembangan
kapasitas.
Board Member of DBS Foundation dan DBS Head of Group Strategic Marketing & Communications, Karen Ngui, mengatakan semakin jelas bahwa wirausaha sosial, seperti kebanyakan bisnis, memerlukan dukungan holistik untuk membantu mereka mengatasi ketidakpastian dan tantangan yang dipicu oleh wabah Covid-19.
"DBS Foundation Social Enterprise Grant dan berbagai inisiatif lain yang telah dilakukan bank untuk memelihara dan menumbuhkan ekosistem wirausaha sosial. Kami berharap lebih banyak wirausaha sosial akan datang untuk mengejar tujuan mereka dan sukses dalam membangun bisnis yang inovatif yang bertujuan untuk mengatasi masalah lingkungan dan/atau sosial yang berkembang di Asia," ujarnya.
Tahun lalu, wirausaha sosial asal Indonesia, Tanijoy, bersama dengan 8 wirausaha sosial terpilih lainnya dalam DBS Foundation Social Enterprise Grant Programme 2019, telah menerima total dana hibah sebesar SGD 1,3 juta. Mereka dipilih berdasarkan atas kriteria ketat, termasuk kemampuan mengatasi masalah sosial, inovasi, serta keberlangsungan dan skalabilitas dari model bisnisnya.
Tanijoy menerima bimbingan dari para bankir SME DBS serta pelatihan perbankan dan keuangan di DBS SME Academy, serta mendapatkan akses secara virtual ke layanan perbankan melalui Paket Wirausaha Sosial DBS (DBS Social Enterprise Package) minimum nol rupiah untuk pembukaan rekening dan pinjaman tanpa jaminan dengan tingkat bunga lebih rendah dari tingkat bunga biasa.
Editor : Eva Martha Rahayu
www.swa.co.id