Ribuan fans The Rolling Stones di Singapura kini dapat menyaksikan aksi band rock favorit mereka secara gratis di 'Marina Bay Sands Rock' pada 15 Maret 2014 mendatang. Pertunjukan ini merupakan bagian dari 'Sands for Singapore', yaitu salah satu program Corporate Social Responsibility (CSR) Marina Bay Sands. Melalui LED raksasa berukuran 14 meter serta sound system Meyer di ketinggian 8 meter, konser band legendaris ini diharapkan dapat memukau penonton.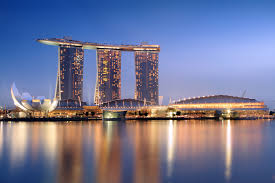 Marina Bay Sands, sumber : istimewa
Selain The Rolling Stones, Sands  for Singapore juga akan mempertontonkan aksi band rock lokal seperti A-List with Douglas O., Heritage, Jive Talkin', John Molina & Krueger dan ZulTania untuk tampil di 'Marina Bay Sands Rock Singapore'. Festival ini akan dimulai pukul 4:00 sore dan dilanjutkan dengan siaran langsung konser The Rolling Stones 14 On Fire pada pukul 8:00 malam.
"Kami sangat bangga dapat memberikan sesuatu yang berarti bagi masyarakat setempat melalui Sands for Singapore. Dengan menayangkan secara langsung konser The Rolling Stones 14 On Fire, kami akan meberikan kesempatan kepada para penggemar band rock papan atas tersebut untuk menikmati hiburan kelas dunia terbaik dengan cara yang unik" ungkap George Tanasijevich, President and Chief Executive Officer of Marina Bay Sands.
Sementara itu, Jive Talkin' veteran musik dengan karya repertoar lagu-lagu klasik dari rok hingga pop pun antusias dipercaya untuk menjadi salah satu pengisi di acara tersebut."Konser ini merupakan cara yang unik untuk memberikan sesuatu kepada komunitas sekitar. Kami merasa terhormat dapat menjadi bagian dari acara ini," ujar band yang telah tampil dengan musisi terkenal seperti Def Leppard dan Kenny G ini. (EVA)