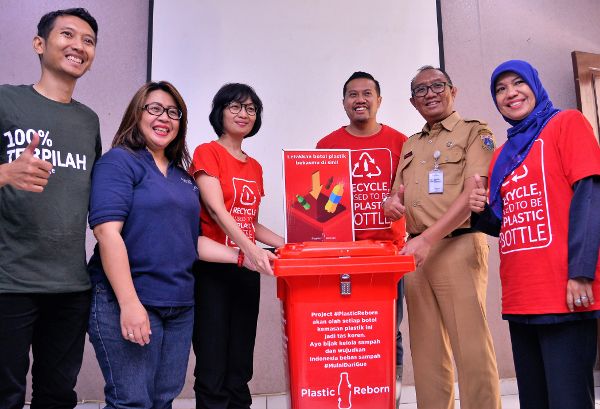 World Without Waste.
The Coca-Cola Company mengumumkan arahan baru pengelolaan kemasan produknya untuk tujuan daur ulang.
Di tingkat global, perusahaan telah menetapkan tujuannya untuk membantu mengumpulkan dan mendaur ulang kemasan produk, sama dengan jumlah yang diproduksi, pada tahun 2030.
Tujuannya untuk meneruskan visi perusahaan dalam mewujudkan World Without Waste. Coca-Cola bersama para mitra bisnisnya akan melakukan investasi jangka panjang untuk mendorong proses pembuatan kemasan yang 100% dapat didaur ulang. Upaya ini untuk membangun pemahaman bahwa kemasan makanan dan minuman adalah bagian penting dari kehidupan masyarakat modern, namun tetap melakukan usaha untuk mengurangi sampah kemasan secara global.
"Dunia ini memiliki masalah dengan kemasan. Seperti semua perusahaan lainnya, kami memiliki tanggung jawab untuk membantu mengatasinya," ujar James Quincey, Presiden dan CEO The Coca-Cola Company. Melalui visi World Without Waste, Coca Cola melakukan investasi untuk bumi melalui reduksi kemasan produknya.
Tujuan lebih lanjut dari kampanye ini adalah investing in the planet . Maksudnya  untuk membantu mengumpulkan kembali kemasan Coca Cola agar dapat dimanfaatkan lagi dan memiliki masa hidup lebih dari satu kali. Selain itu, kampnye ini  untuk memastikan seluruh kemasan produknya menjadi 100% dapat didaur ulang. "Perusahaan terus menciptakan kemasan botol yang lebih baik dengan material daur ulang untuk mengembangkan inovasi bahan baku dan mengurangi jumlah kandungan plastik dalam tiap kemasannya," ungkapnya.
Visi World Without Waste merupakan rangkaian program berkelanjutan Coca Cola. Produsen minuman soda ini juga berhasil mengembalikan 100% air yang digunakan dalam produksi akhir minuman. Target water replanisment atau pengembalian air ke alam dan masyarakat melampaui target pada 2015, lima tahun lebih cepat dari sasaran awalnya.
Nantinya Coca-Cola akan bekerja sama dengan beberapa mitra global. Juga, segera meluncurkan berbagai program yang berkolaborasi  dengan  mitra-mitra baru di masing-masing negara. Selain itu,  berencana untuk bekerja sama dengan para mitra utama bisnis dalam rangka memotivasi konsumen agar lebih sering melakukan daur ulang kemasan.
Editor : Eva Martha Rahayu
www.swa.co.id