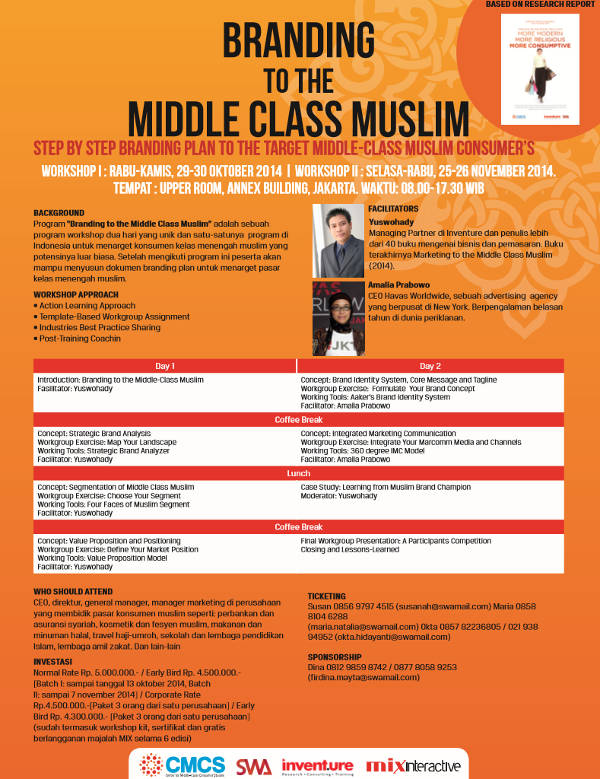 Branding to the Middle-Class Muslim: Step by step branding plan to the target Middle-Class Muslim Consumer's
Branding to the Middle-Class Muslim:
Step by step branding plan to the target Middle-Class Muslim Consumer's
Workshop I : Rabu-Kamis, 29-30 Oktober 2014
Workshop II : Selasa-Rabu, 25-26 November 2014
Tempat : Upper Room, Annex Building, Jakarta. Waktu: 08.00-17.30 Wib
Background
Program "Branding to the Middle class Muslim" adalah sebuah program workshop dua hari yang unik dan satu-satunya program di Indonesia untuk menarget konsumen kelas menengah muslim yang potensinya luar biasa. Setelah mengikuti program ini peserta akan mampu menyusun dokumen branding plan untuk menarget pasar kelas menengah muslim.
WORKSHOP APPROACH
• Action Learning Approach
• Template-Based Workgroup Assignment
• Industries Best Practice Sharing
• Post-Training Coachin
FACILITATATORS
Yuswohady
Managing Partner di Inventure dan penulis lebih dari 40 buku mengenai bisnis dan pemasaran. Buku terakhirnya Marketing to the Middle Class Muslim (2014).
Amalia Prabowo
CEO Havas Worldwide, sebuah advertising agency yang berpusat di New York. Berpengalaman belasan tahun di dunia periklanan.