DEVELOPING & TRANSFORMING ORGANIZATIONS
MOVING INDONESIA FORWARD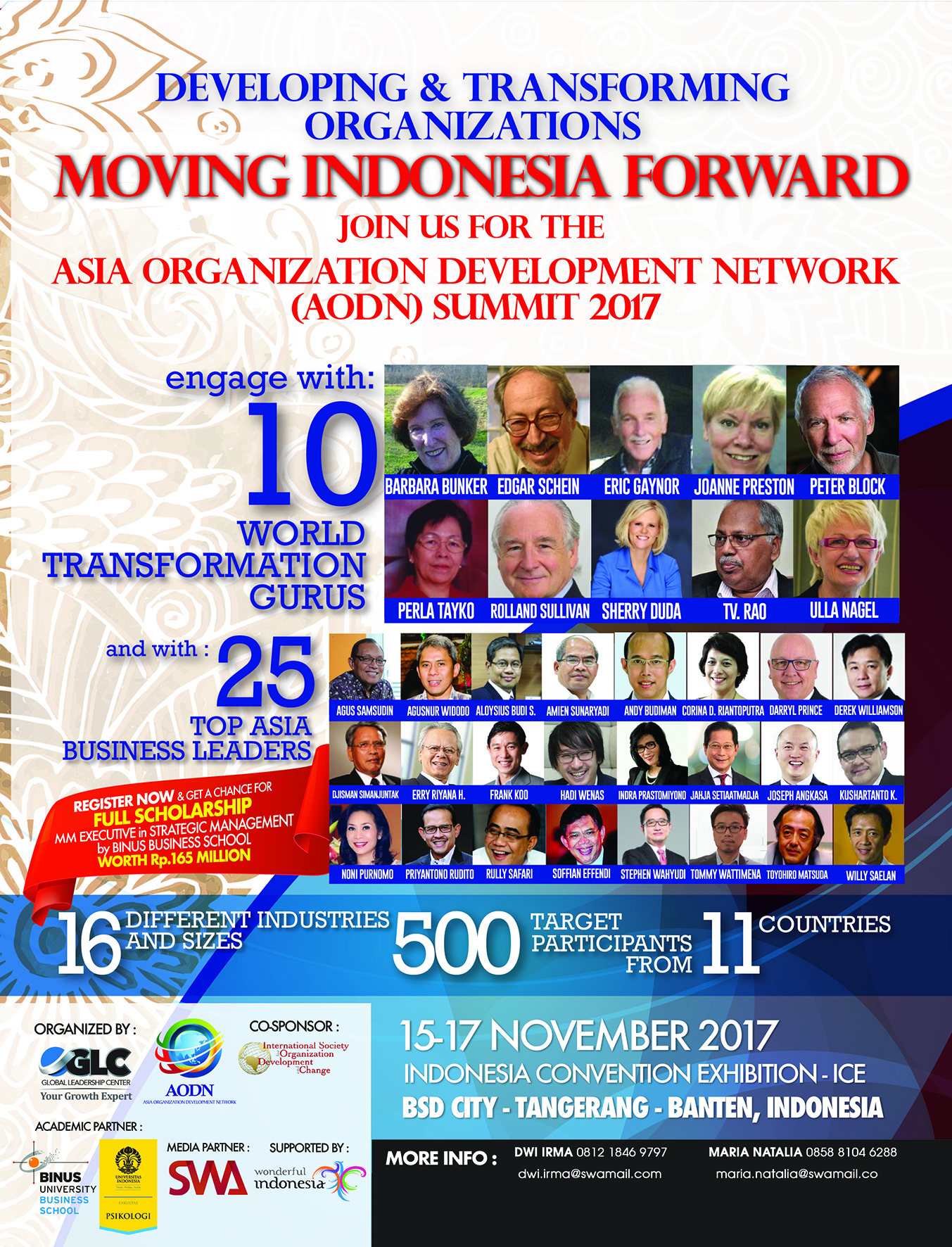 Join us for the
Asia Organization Development Network(AODN) summit 2017
what is organization development?
organization development is the methodical pursuit of a transformative leap to a desired vision in an organization  where strategies, technology and system are blended and aligned in creating positive,sustained high perfomance. it is conducted in harmony with the local culture and promotes innovative and authentic leadership
THE PURPOSE OF THIS SUMMIT
1. To Advance the field of OD in Indonesia and Asia in significant. and to help indonesia realize its aspiration
2.To Advicate the benefits of Organization Development and how it can transform organizations
3. To learn collaboratively how-to transform our organization and jump on the bandwagon of development sweeping asia
HOW IS THIS SUMMIT DIFFERENT THAN ALL OTHER CONFERENCES?
1. This summit is about transforming indonesia and the large organizations within it.
2.More specifically, this summit is About Engagement in a facilitated conversation for practical Empowerment. it is not about expert speakers coming in,giving a speech and leaving ... but it is about engaging each one of you who participate and co-creating prototypes and implementable solutions for our most positive future
3.The design is based on an emerging learning and transformation economy rather than an expert knowledge and authoritative economy.
DESIRED OUTCOMES
1. Connetions built between participants,including with the CEOs and Executives in a real-time community with likely on going relationships
2. The OD Competencies global framework is introduced and adapted to the indonesia culture
3. An innovative technology for engagement is felt and well understood
4. Practitioners feel a call to action in how to apply OD across sectors and boundaries
More Info :
Dwi Irma
Phone: +62812 1846 9797
Email : dwi.irma@swamail.com
Maria Natalia
Phone: +62858 8104 6288
Email : maria.natalia@swamail.com