Dalam rangka mengembangkan kesiapan perusahaan Indonesia dalam merespons fenomena digitalisasi di dunia bisnis, SWA didukung Telkomsel akan mengadakan Digital Mastery Conference 2017.
Digital Mastery adalah sekumpulan attitude dan skill penting terkait dengan aspek-aspek digital. Antara lain berupa digital attitude, digital leadership, digital capability, dan sebagainya. Digital Mastery skills seyogyanya dimiliki atau diadopsi sebanyak mungkin SDM perusahaan, agar mampu memberikan respons terbaik terhadap fenomena digitalisasi.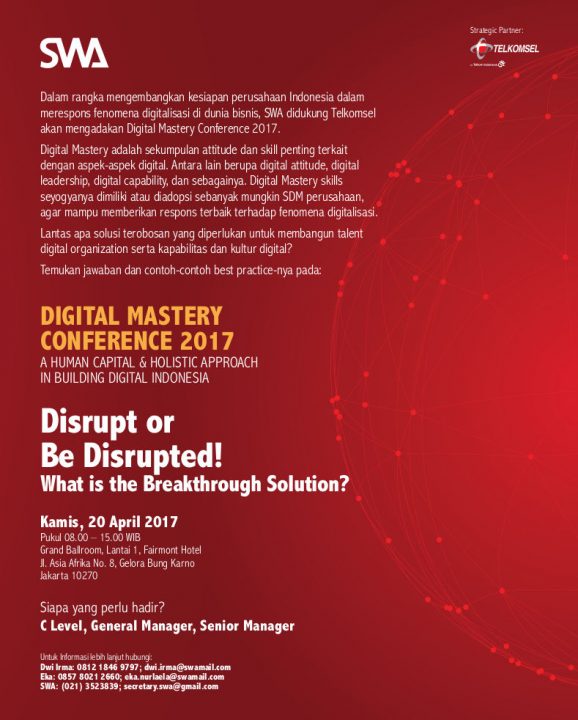 Digital Mastery Conference 2017
Lantas apa solusi terobosan yang diperlukan untuk membangun talent digital organization serta kapabilitas dan kultur digital?
Temukan jawaban dan contoh-contoh best practice-nya pada:
DIGITAL MASTERY CONFERENCE 2017
A HUMAN CAPITAL & HOLISTIC APPROACH IN BUILDING DIGITAL INDONESIA
Disrupt or Be Disrupted!
What is the Breakthrough Solution?
Kamis, 20 April 2017
Pukul 08.00 – 15.00 WIB
Grand Ballroom, Lantai 1, Fairmont Hotel
Jl. Asia Afrika No. 8, Gelora Bung Karno
Jakarta 10270
Siapa yang perlu hadir?
C Level, General Manager, Senior Manager
Untuk Informasi lebih lanjut hubungi:
Dwi Irma: 0812 1846 9797; dwi.irma@swamail.com
Eka: 0812 12795165 ; eka.nurlaela@swamail.com
SWA: (021) 3523839; secretary.swa@gmail.com