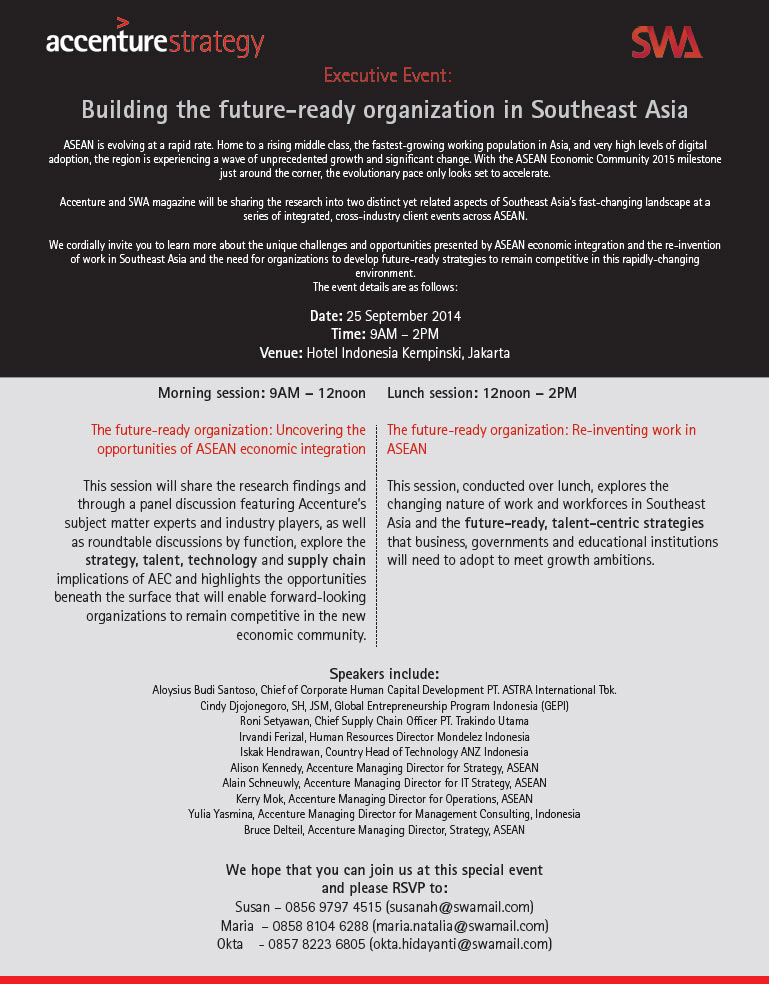 ASEAN is evolving at a rapid rate. Home to a rising middle class, the fastest-growing working population in Asia, and very high levels of digital adoption, the region is experiencing a wave of unprecedented growth and significant change. With the ASEAN Economic Community 2015 milestone just around the corner, the evolutionary pace only looks set to accelerate.
Accenture and SWA magazine will be sharing the research into two distinct yet related aspects of Southeast Asia's fast-changing landscape at a series of integrated, cross-industry client events across ASEAN.
We cordially invite you to learn more about the unique challenges and opportunities presented by ASEAN economic integration and the re-invention of work in Southeast Asia and the need for organizations to develop future-ready strategies to remain competitive in this rapidly-changing environment.
The event details are as follows:
Date: 25 September 2014
Time: 9AM – 2PM
Venue: Hotel Indonesia Kempinski, Jakarta
Morning session: 9AM-12 noon
The future-ready organization: Uncovering the opportunities of ASEAN economic integration.
This session will share the research findings and through a panel discussion featuring Accenture's subject matter experts and industry players, as well as roundtable discussions by function, explore the strategy, talent, technology and supply chain implications of AEC and highlights the opportunities beneath the surface that will enable forward-looking organizations to remain competitive in the new economic community.
Lunch session: 12 noon - 2PM
The future-ready organization: Re-inventing work in ASEAN.