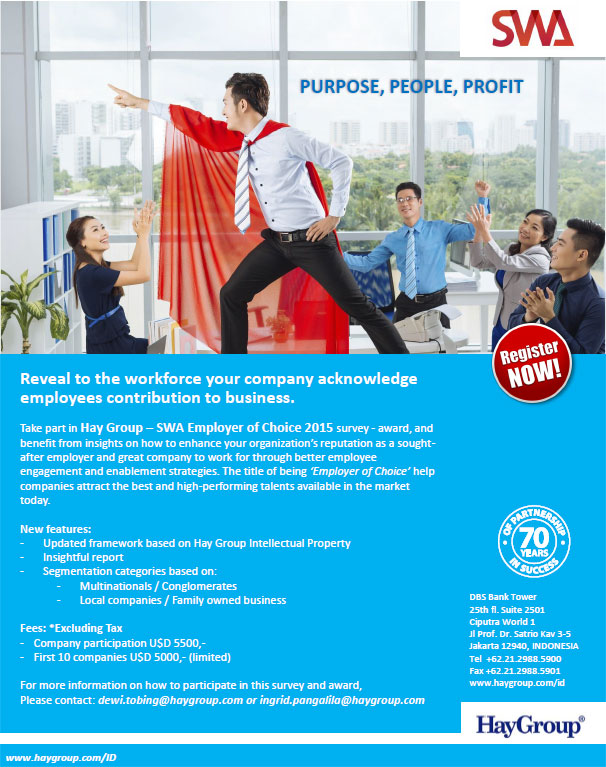 Hay Group - SWA Employer of Choice 2015
Reveal to the workforce your company acknowledge employees contribution to business.
Take part in Hay Group – SWA Employer of Choice 2015 survey - award, and
benefit from insights on how to enhance your organization's reputation as a soughtafter
employer and great company to work for through better employee
engagement and enablement strategies. The title of being 'Employer of Choice' help
companies attract the best and high-performing talents available in the market
today.
New features:
- Updated framework based on Hay Group Intellectual Property
- Insightful report
- Segmentation categories based on:
- Multinationals / Conglomerates
- Local companies / Family owned business
Fees: *Excluding Tax
- Company participation U$D 5500,-
- First 10 companies U$D 5000,- (limited)
For more information on how to participate in this survey and award,
Please contact: [email protected] or [email protected]
REGISTER NOW!
==============================
"70 Years of Partnership in Success"
DBS Bank Tower
25th fl. Suite 2501
Ciputra World 1
Jl Prof. Dr. Satrio Kav 3-5
Jakarta 12940, INDONESIA
Tel +62.21.2988.5900
Fax +62.21.2988.5901
www.haygroup.com/id