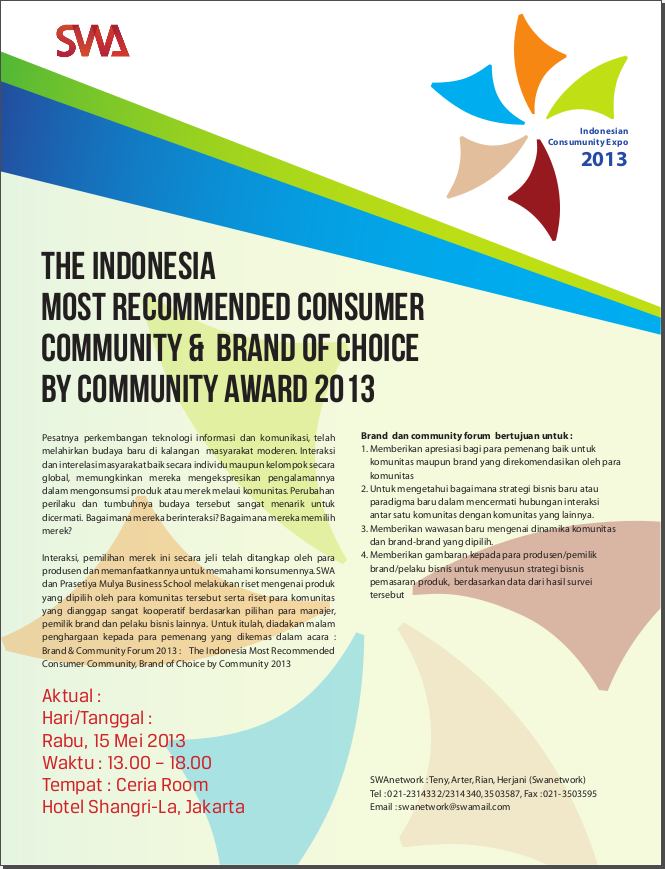 THE INDONESIA MOST RECOMMENDED CONSUMER COMMUNITY & BRAND of CHOICE by COMMUNITY AWARD 2013
Pesatnya perkembangan teknologi informasi dan komunikasi, telah melahirkan budaya baru di kalangan masyarakat moderen. Interaksi dan interelasi masyarakat baik secara individu maupun kelompok secara global, memungkinkan mereka mengekspresikan pengalamannya dalam mengonsumsi produk atau merek melaui komunitas. Perubahan
perilaku dan tumbuhnya budaya tersebut sangat menarik untuk dicermati. Bagaimana mereka berinteraksi? Bagaimana mereka memilih merek?
Interaksi, pemilihan merek ini secara jeli telah ditangkap oleh para produsen dan memanfaatkannya untuk memahami konsumennya. SWA dan Prasetiya Mulya Business School melakukan riset mengenai produk yang dipilih oleh para komunitas tersebut serta riset para komunitas yang dianggap sangat kooperatif berdasarkan pilihan para manajer,
pemilik brand dan pelaku bisnis lainnya. Untuk itulah, diadakan malam penghargaan kepada para pemenang yang dikemas dalam acara :
Brand & Community Forum 2013 : The Indonesia Most Recommended Consumer Community, Brand of Choice by Community 2013
Aktual :
Hari/Tanggal :
Rabu, 15 Mei 2013
Waktu : 13.00 – 18.00
Tempat : Ceria Room
Hotel Shangri-La, Jakarta
Brand dan community forum bertujuan untuk :
1. Memberikan apresiasi bagi para pemenang baik untuk komunitas maupun brand yang direkomendasikan oleh para komunitas