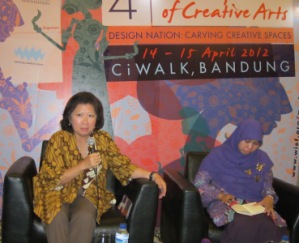 Industri layar lebar Indonesia kembali ramai. Film-film bermutu buatan anak negeri kembali mendominasi jadwal tayang bioskop. Sayangnya, hanya masyarakat kota pertama dan sebagian kota kedua yang bisa merasakannya.
"Sekarang ini kita baru punya 746 layar di seluruh Indonesia," ungkap Menteri Pariwisata dan Ekonomi Kreatif, Mari Elka Pangestu.
 Disampaikan dalam The 4th Marketplace of Creative Art, Mari menuturkan bahwa masih banyak kota di Indonesia yang belum menikmati kebangkitan perfilman Indonesia. Sebagai solusinya, kementrian pariwisata dan ekonomi kreatif saat ini tengah menggodok konsep Layar Tancap Modern.
"Sederhana aja, di tempat umum seperti taman-taman, terus kita pakai layar yang besar. Nanti di sana film-film kita diputar dari VCD asli," tutur Mari kepada reporter SWA pada Sabtu 14 April 2012.
Meski masih dalam tahap diskusi, Mari yakin konsep Layar Tancap Modern akan menjadi solusi terbaik untuk mengembangkan industri perfilman hingga ke pelosok tanah air. Rencananya, ia akan menggandeng para pelaku bisnis dan pemerintah daerah untuk mewujudkan rencana tersebut.