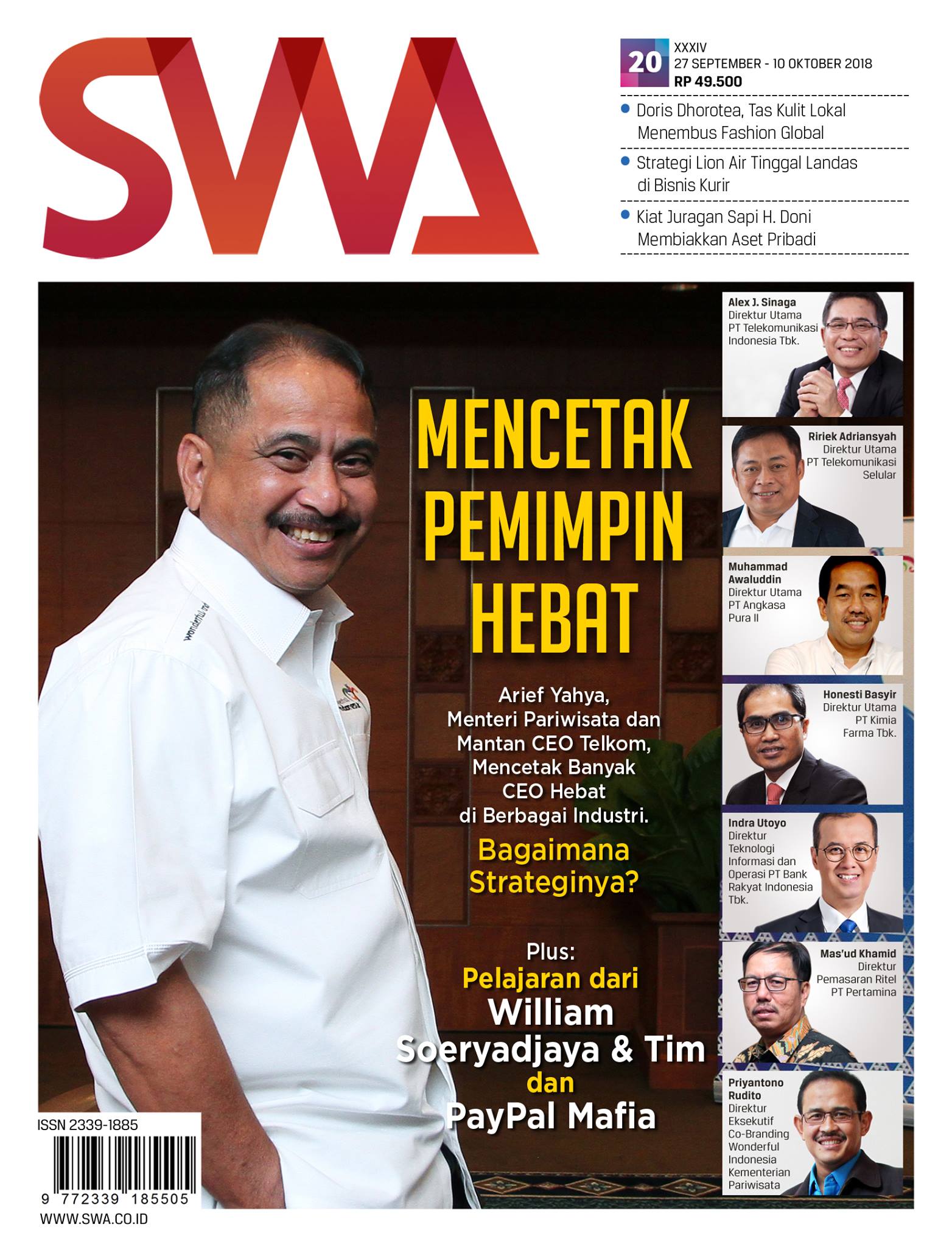 PASTIKAN ANDA TIDAK KETINGGALAN SWA ~ EDISI 20/2018
Mencetak Pemimpin Hebat
Arief Yahya, Menteri Pariwisata dan Mantan CEO Telkom,
Mencetak Banyak CEO Hebat di Berbagai Industri. Bagaimana Strateginya?
Semasa menjabat sebagai orang nomor satu di Telkom, Arief Yahya berhasil membangun Generasi Emas dengan mengantarkan The Dream Team Telkom 2012-2014 yang dipimpinnya kini menjadi leader di sejumlah BUMN. Seperti apa gaya Leader as Father yang ia terapkan dan apa pendekatan lainnya. Bagaimana ia memberi tough job kepada anak buah untuk menghasilkan karya yang masterpeace? Siapa saja anggota The Dream Team yang kini menjadi leader di BUMN? Semua dikupas habis dan dibahas tuntas hanya di SWA terbaru !
"Sang "Guru" yang Melahirkan Peminpin Bisnis Hebat"
Semasa menjabat sebagai orang nomor satu di Telkom, Arief yahya berhasil membangun Generasi Emas. Mantan anak buahnya kini menduduki posisi puncak di berbagai perusahaan papan atas Tanah Air. Apa rahasia keberhasilannya?
Sajian SWA lainnya!
"Doris Dhorotea Tas Asli Indonesia Menerobos Pasar Fashion Dunia"
Para pecinta fashion tas dunia boleh jadi akan menambah koleksi tas mewah mereka, selain Hermes, Dior, Coach, Louis Vuitton, Kate Spade, dan sebagainya, dengan merek Doris Dhorotea (DD).