Tom Peters, bersama Bob Waterman, menulis buku In Search of Excellence pada 1982 yang menjadi super-best-selling dan masih tersedia di mana-mana sampai saat ini. Pada 2018 ini, Tom Peters kembali menulis buku tentang excellence dengan judul The Excellence Dividend. Intinya, dalam pekerjaan apa pun, excellence selalu memberikan keuntungan luar biasa.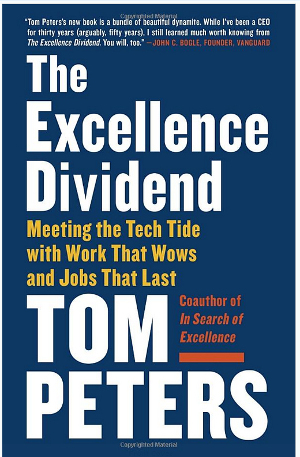 Judul : The Excellence Dividend
Penulis : Tom Peters
Penerbit : Vintage Books (April 2018)
Tebal : 457 halaman
Buku yang berisi lebih dari 300 quote dan "teriakan-teriakan" gegap gempita soal excellence ini terasa "sangat Tom Peters" bagi yang sering mengikutinya di Powerpoint, blog, buku-buku, Vlog, dan Twitter-nya. Asli Tom, itulah kesan saya ketika pertama kali membaca buku setebal 457 halaman ini.
Buku ini terdiri dari enam bagian (section) dan 15 bab (chapter) yang menarik dan penuh cerita pendek yang menggugah. Saya habiskan dalam empat hari yang menyenangkan, seperti melewati jalanan kenangan yang indah, dibauri hujan cerita baru dan pelangi yang hebat.
Bagian 1, Execution. Semua teori akan kembali pada pelaksanaannya, pada eksekusi, sehingga Tom mendahulukan pelaksanaan daripada yang lain. Ketika Conrad Hilton ditanya "Apa hal terpenting dalam karier Anda?", jawabnya adalah: "Ingatlah untuk memasukkan tirai shower ke dalam bathtub." Episode ringkas yang menggambarkan bahwa betapapun hebatnya strategi, tetap eksekusi adalah kunci. Anekdot-anekdot kecil, cerita ringkas, kata bijak yang sederhana mewarnai buku yang berisi banyak huruf tebal dan kalimat menarik ini.