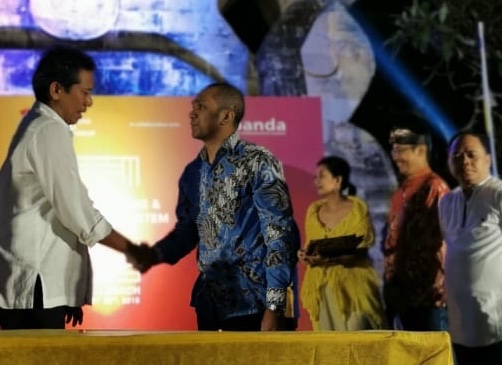 Aktivaku menandatangani nota kesepaham (MoU) dengan PT Bank DKI (Bank DKI) dan PT Bank Pembangunan Daerah Bali (BPD Bali) dalam upaya inklusi keuangan di Indonesia.
Acara ini merupakan tindak lanjut penandatanganan kerja sama antara AFPI (Asosiasi Fintech Pendanaan Bersama Indonesia) dan Asbanda (Asosiasi Bank Daerah) yang diselenggarakan di Manado, bulan lalu. Penandatanganan MoU ini dilakukan dalam acara Digital Banking and Fintech Ecosystem Gathering yang bertempat di Grand Inna Bali Beach Hotel Sanur, Denpasar, Bali.
"Pengenalan dan edukasi industri fintech lending harus dilakukan ke masyarakat agar masyarakat, khususnya usaha rintisan, pejabat daerah, industri jasa keuangan, dan para stakeholders terkait, makin paham sehingga dapat memanfaatkan fintech lending secara optimal,terutama untuk membantu meningkatkan potensi ekonomi daerah," jelas Tofan Saban, COO dari Aktivaku.
Berdasarkan data Otoritas Jasa Keuangan (OJK), hingga Mei 2019, penyaluran penyaluran secara nasional tercatat Rp 41,03 triliun atau meningkat 81,06% dibanding tahun lalu.
Tofan menambahkan, Aktivaku sebagai fintech yang memiliki strategi Business to Business to Customer atau B2B2C melihat peluang di industri fintech masih sangat besar, apalagi di daerah-daerah.
Ia meyakini, sinergi yang akan dilakukan antara Aktivaku- Bank DKI-BPD Bali dengan skema kerja sama yang tepat dapat memberikan efek signifikan bagi peningkatan potensi Pendapatan Asli Daerah. Aktivaku adalah P2P lending yang telah terdaftar di OJK sejak 8 Januari 2018 dengan No s-8/NB.11/2018.
Editor : Eva Martha Rahayu
www.swa.co.id