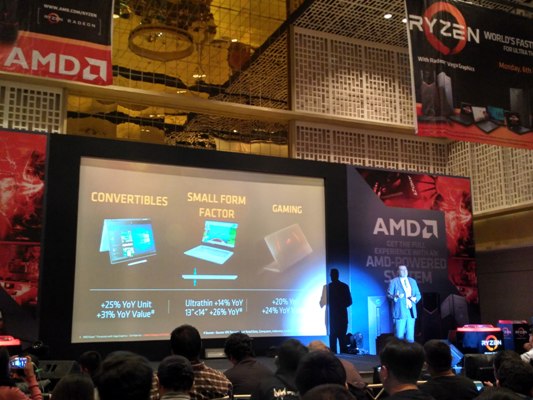 Tak hanya berkutat di prosesor untuk komputer, Advanced Micro Devices, Inc. (AMD) kini memperkenalkan prosesor AMD Ryzen terbaru untuk perangkat notebook ke pasar Indonesia. Dengan kode nama "Raven Ridge", AMD resmi meluncurkan dua prosesor Ryzen, yaitu Ryzen 7 2700U dan Ryzen 5 2500U yang dirancang untuk laptop ultrathin.
Kedua prosesor menggabungkan arsitektur Zen x 86 cores, teknologi kecerdasan level prosesor AMD SenseMI dengan grafis revolusioner Radeon Vega pada desain System-on-Chip
Peter Chambers, Direktur Consumer Sales AMD Asia Pacific and Japan, mengatakan, kehadiran prosesor terbaru ini untuk menguatkan posisi AMD di pasar PC, di mana sebelumnya pada awal tahun, AMD sudah memenuhi komitmen peluncuran prosesor di pasar desktop kelas atas.
"Ryzen Mobile juga menawarkan formfactor baru pada notebook yang didukung oleh partner OEM kami, sehingga AMD ingin menjawab tren utama kebutuhan untuk pasar notebook seperti tipis dan ringan, multiguna, dan hiburang on the go," ungkap Peter.
Peter mengklaim, prosesor terbarunya ini akan memberikan performa terkencang di dunia. "Mampu menyodorkan performa multi-threaded CPU hingga 44% lebih baik dan performa grafis yang 161% lebih unggul dari kompetitornya," ungkapnya.
Prosesor AMD Ryzen Mobile ini menjalin partner dengan merek laptop ternama yakni Acer, Asus, HP, Dell, dan Lenovo. Sejumlah produsen laptop tersebut memastikan akan memakai dapur pacu yang ditenagai Proseson Ryzen Mobile terbaru itu.