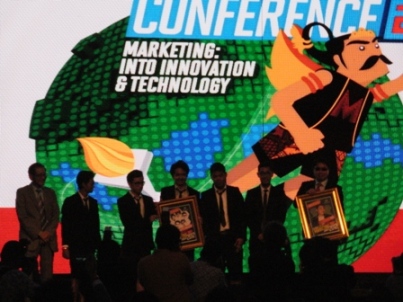 Hermawan Kartajaya (paling kiri) dalam The MarkPlus Conference 2013
Di tengah krisis global yang sedang melanda dunia, ekonomi Indonesia justru tetap bisa eksis dengan pertumbuhan sekitar 6 persen belakangan ini. Ke depan, banyak pihak memprediksi bahwa Indonesia akan tetap bisa bertahan bahkan berkembang. Salah satu orang yang berpandangan demikian adalah Hermawan Kartajaya, CEO dan Founder MarkPlus, Inc.
"Setelah melewati tiga kuartal, saya yakin tahun ini Indonesia akan jadi runner-up pertumbuhan Ekonomi Dunia di kelompok G-20, sesudah Tiongkok, dan melampaui India," kata Hermawan, di Jakarta, Kamis (13/12/2012).
Apa yang dikemukakan Hermawan tersebut adalah gambaran dari tema acara The MarkPlus Conference yang kembali digelar hari ini. Adapun tema yang diangkat tahun ini adalah "Marketing: Into Innovation and Technology. The World is Shaking, Indonesia is Standing. How about You?"
Tema itu menggambarkan bahwa kondisi ekonomi Indonesia saat ini cukup baik di tengah ketidakstabilan ekonomi dunia. Dengan kondisi pemerintahan yang juga dinilai stabil, Indonesia pun menjadi negara yang semakin populer di dunia.
Karena itu, Hermawan yakin bahwa ekonomi Indonesia bisa melampaui India di kelompok G-20 pada tahun ini. Untuk tahun 2013, ia pun menyebutkan, sejumlah lembaga internasional telah memprediksi bahwa ekonomi negara republik ini masih akan tinggi.
"Sementara itu, orang luar sudah tidak khawatir lagi walaupun tensi politik di tahun 2013 sudah mulai memanas. Bahkan, mereka yakin, di samping dua mesin ekonomi, yaitu domestic spending dan foreign investment, mesin ketiga yaitu government spending on infrastructure bakal digenjot," lanjut dia.
Agar ekonomi nasional, khususnya dunia bisnis, bisa lebih maju, ia lantas menyarankan agar pelaku dunia usaha untuk lebih bisa menggunakan teknologi dan lebih inovatif. Dia bilang, berpikir teknologi artinya ada platform konektivitas untuk menyongsong "Booming Indonesia Baru" dalam tiga sampai lima tahun ke depan. "Berpikir inovatif artinya memperkuat diferensiasi terus menerus dengan melakukan pilihan jalur inovasi yang pas dan sesuai dengan situasi perusahaan dan lanskap industri masing-masing," tandasnya. (EVA)