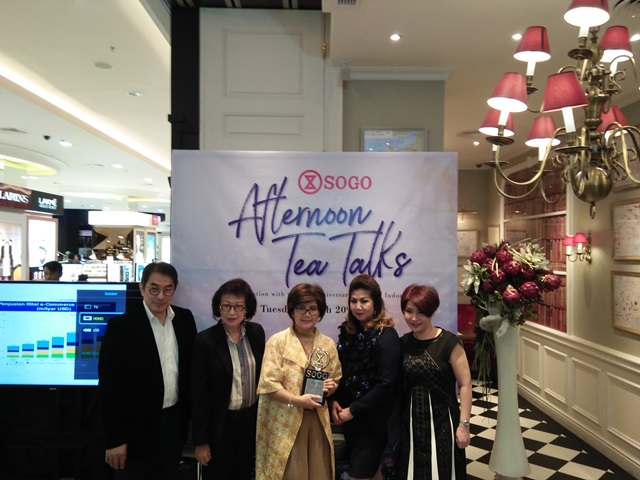 Sogo Indonesia baru saja merayakan hari ulang tahunnya yang ke-28 di Sogo cabang Mall Kota Kasablanka. Pada kesempatan tersebut, Sogo mengundang Aviliani, ekonom Institute for Development of Economic and Finance (INDEF) untuk membicarakan kontribusi ritel terhadap pertumbuhan ekonomi nasional.
Aviliani mengungkapkan bahwa kontribusi konsumsi terhadap pertumbuhan ekonomi Indonesia adalah yang terbesar. Oleh karena itu, konsumsi masyarakat harus dijaga agar jangan sampai terganggu. "Kalau konsumsi terganggu, pasti investasi akan terganggu, pemerintah juga akan terganggu karena penerimaan pajaknya turun," ujarnya di Jakarta (20/3/2018).
Kelas ekonomi atas di Indonesia sudah mencapai 50 juta. Mereka memiliki gaya hidup yang sudah berubah, di mana sandang sudah menjadi kebutuhan pokok, bukan sekadar sekunder lagi. Kelas menengah atas tersebut berkontribusi terhadap 46 persen konsumsi. Perubahan konsumsi pada menengah atas bisa berpengaruh pada pasar ritel. Isu pajak dan kartu kredit membuat kelas menengah atas mengurangi konsumsinya.
Aviliani menegaskan, sebenarnya bukan daya beli yang terganggu, namun konsumsi masyarakat. Terdapat perbedaan dari daya beli dan konsumsi. Daya beli merupakan kemampuan konsumsi seseorang, sementara konsumsi adalah ketika seseorang sudah membeli. "Tahun lalu, daya beli tidak menurun, namun konsumsi menurun. Ternyata, orang kelas menengah atas kebanyakan menaruh uangnya di bank, tidak dikonsumsikan," tambahnya.
Mengenai perubahan belanja ke ekonomi digital, Aviliani menyatakan bahwa sebenarnya kontribusi ekonomi digital masih kecil, baru Rp76 triliun dari total potensi Rp12.000 triliun. Meski begitu, jumlahnya akan meningkat beberapa tahun ke depan saat pasar didominasi oleh generasi millenial dan generasi Z. Kedua generasi ini mempunyai perilaku yang berbeda dengan baby boomers dan generasi X karena lebih suka berbelanja online.
Aviliani memperkirakan pada tahun 2030, anak-anak millenial dan gen Z akan mendominasi pasar sampai 60 hingga 70 persen. "Karena bisa masuk pasar generasi millenial, perusahaan ritel yang juga berkecimpung di digital marketing ordernya cenderung naik," tambah Aviliani.
Menurutnya,  selama 70 persen usia produktif masih ada, ritel tidak akan mati. Persainganlah yang akan menentukan keberlanjutan industri ritel. Melihat persaingan yang cukup ketat, para pelaku ritel perlu beradaptasi dengan perubahan zaman agar dapat survive.
Editor : Eva Martha Rahayu
www.swa.co.id