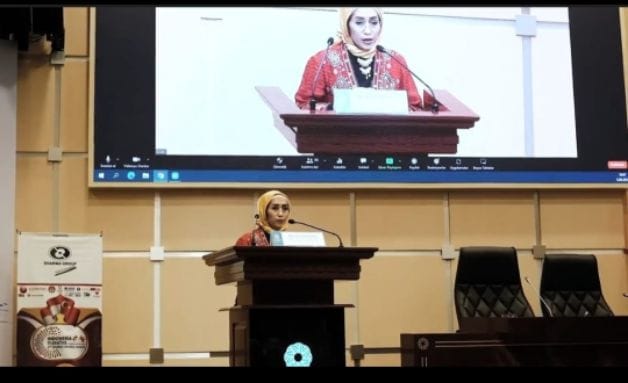 Ajang Indonesia-Turkiye Business Forum & Global Leaders Award-II-2022 kembali digelar. Perhelatan internasional yang diselenggarakan oleh Economic Review bersama dengan DEiK (Turkiye-Indonesia Business Council) dan Istanbul Chamber of Commerce yang didukung oleh KBRI, serta Konsulat Jenderal Republik Indonesia (KJRI) ini untuk memberikan penghargaan kepada pihak perusahaan Indonesia baik BUMN, anak BUMN, BUMD serta swasta.
Penilaian dalam pemberian penghargaan dilakukan oleh dewan juri secara independen, objektif dan profesional yang bergabung di Indonesia Asia Institute Foundation.
Penyelenggraan Indonesia-Turkiye Business Forum & Global Leaders Award -II-2022kali ini digelar secara tatap muka dan daring, langsung disiarkan dari Istanbul, Turkiye, pada Senin (06/06/2022).
Pendiri dan Chairwoman Economic Review, Indonesia- Asia Institute, Indonesia Leaders Foundation Irlisa Rachmadiana dalam sambutannya mengatakan gelaran ini sebelumnya telah dilaksanakan empat tahun silam, yakni untuk yang pertama kalinya ditahun 2018. Sama seperti tahun sebelumnya acara kembali dilaksanankan di Turki tepatnya Istanbul Chamber of Commerce -Eminonu.
"Pada puncak pemberian award ini diselenggarakan sekaligus bersamaan dengan ajang bisnis dua negara yang dikemas menjadi satu dengan Indonesia-Turki Business Forum. Kami juga mendatangkan pengusaha dan delegasi dagang, baik dari Indonesia maupun Turki. Oleh karenanya seluruh perusahaan yang mendapatkan penghargaan saat ini merupakan perusahaan terbaik yang juga telah mampu menjalin bisnisnya hingga kelas internasional, hal ini menjadi kebanggaan pula bagi Indonesia," papar Irlisa.
Terkait penghargaan perusahaan Global Leaders Award II -2022 dalam IndonesiaTurkiye Business Forum & Global Leaders Award II -2022, dikatakan Irlisa, seluruh perusahaan pemenang merupakan perusahaan-perusahaan terbaik yang telah mendapatkan penghargaan di tahun 2021, yang sebelumnya telah dinilai oleh para dewan juri.
Adapun penilaian terdiri dari Finance, Human Capital, Sales Marketing, IT, Operasional, CSR, Corporate Communication, GCG , Risk Management and CEO. Dan pada penyelenggaraan Indonesia-Turkiye Business Forum & Global Leaders Award yang ke dua tahun 2022 ini, dirangkum menjadi tiga besar kategori penghargaan yakni Live Time Achievement Award, Global Leadership Award dan Global Company Award.