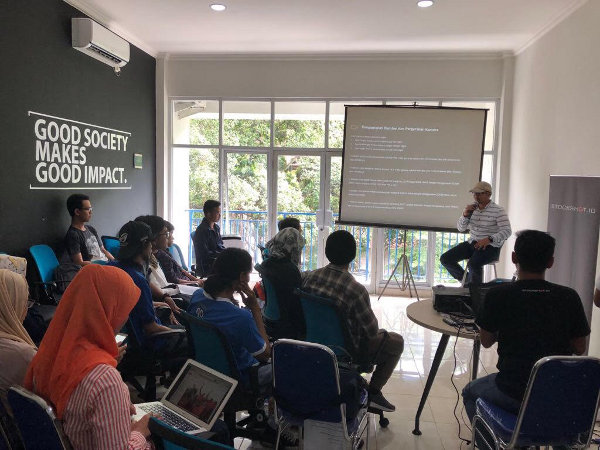 Kelas SSID yang diselenggarakan Stockshot.ID, bertempat di Kemenady Coffee and Co-Working Space (25/11).
Stockshot.ID mengadakan acara kelas SSID yang bertempat di Kemenady Coffee and Co-Working Space (25/11/2017). Kelas SSID adalah sebuah workshop yang mengajarkan para peserta untuk membuat video footage. Program ini diikuti 35 peserta yang juga merupakan peminat fotografi dan videografi di wilayah Bogor dan sekitarnya.
Tujuan acara tersebut supaya peserta dapat belajar dan mencari pengalaman serta mendapat info mengenai cara mengubah hobi menjadi penghasilan tambahan. Mereka juga akan mendapat tambahan wawasan mengenai industri marketplace footage, serta hands on experience in creating footage. "Kami ingin para peserta merasa bahwa hobi mereka dalam kegiatan merekam video ini bukan hanya sekedar hobi tapi bisa menjadi penghasilan juga bagi mereka " jelas Diyan Surya, VP Marketing Stockshot.ID. Para peserta juga mendapat kesempatan untuk menjadi kontributor langsung di Stockshot.ID.
Di kelas SSID, peserta diminta untuk membuat footage berdurasi kurang dari 60 detik dan memamerkan hasil karyanya ke sistem stockshot.ID yang akan dikurasi oleh tim kurator. Dalam event ini juga mensosialisasikan kompetisi video footage via instagram. Mereka menantang kreativitas para footage creator untuk membuat footage mengenai Jawa Barat. Kompetisi ini telah berlangsung dari awal November hingga akhir Desember dan pengumuman pemenang di bulan Januari 2018.
Stockshot.ID menjadi portal marketplace konten footage, video pendek, dan video seri yang pertama di Indonesia. Seperti halnya layanan jual beli online lainnya, Stockshot.ID mempertemukan para perekam gambar dan pembuat video dengan para pembeli baik korporasi, maupun individual. "Kami menyediakan sistem yang mudah untuk bertransaksi konten tentang Indonesia dan menggunakannya tanpa melanggar hak cipta siapapun. Originalitas dan kualitas karya talenta-talenta kontributor terpilih dan profesional," ungkapnya.
Editor : Eva Martha Rahayu
www.Swa.co.id