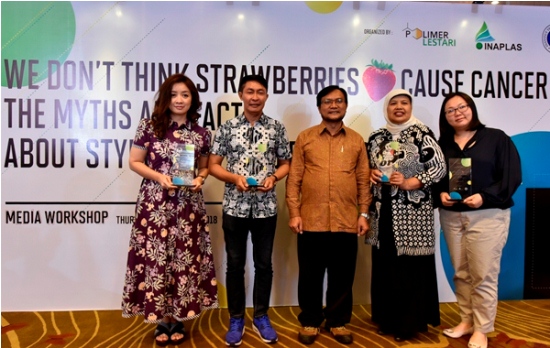 Isu miring mengenai kemasan makanan berbahan polistirena atau yang pada umumnya dikenal sebagai "styrofoam" di masyarakat kita, saat ini terpatahkan.
Para ahli dan perwakilan dari Badan Pengawas Obat dan Makanan Indonesia berkumpul dan menyampaikan penjelasan kepada publik mengenai fakta-fakta amannya kemasan makanan untuk kesehatan. Hal ini berdasarkan pengujian laboratorium serta berkelanjutan bagi lingkungan berdasarkan studi banding di negara lain, dalam acara Media Workshop bertema "Strawberry Tidak Menyebabkan Kanker - Mitos dan Fakta di Balik Kemasan Makanan Styrofoam" (We dont think strawberries cause cancer – the myths and facts about styrofoam food packaging), di Hotel Mulia, Senayan, Jakarta (18/01/2018).
Dra. Ani Rohmaniyati MSi, Kasubdit Standarisasi Produk dan Bahan Berbahaya, Direktorat Pengawasan Produk dan Bahan Berbahaya, Badan POM Indonesia, menuturkan bahwa pengujian untuk kemasan makanan ini sudah dilakukan sejak tahun 2009 oleh BPOM.
BPOM memberi pernyataan bahwa kemasan tersebut aman untuk digunakan masyarakat Indonesia. "Di tahun 2009, BPOM telah melakukan penelitian independen untuk 17 kemasan berbahan polistirena. Dalam 17 kemasan tersebut ditemukan bahwa residu ppm masih dalam angka yang sangat aman, yakni 10-43 ppm. Angka ini jauh di bawah level berbahaya untuk residu kemasan makanan," kata Ani.
Selain sisi kesehatan, isu mengenai kemasan makanan polistirena ini juga sering dikaitkan dengan lingkungan. Menanggapi hal ini, Kepala Laboratorium Teknologi Polimer dan Membran Institut Teknologi Bandung (LTPM ITB), Ir. Akhmad Zainal Abidin, M.Sc., Ph.D memaparkan, kemasan makanan polistirena adalah kemasan yang paling berkelanjutan untuk lingkungan.