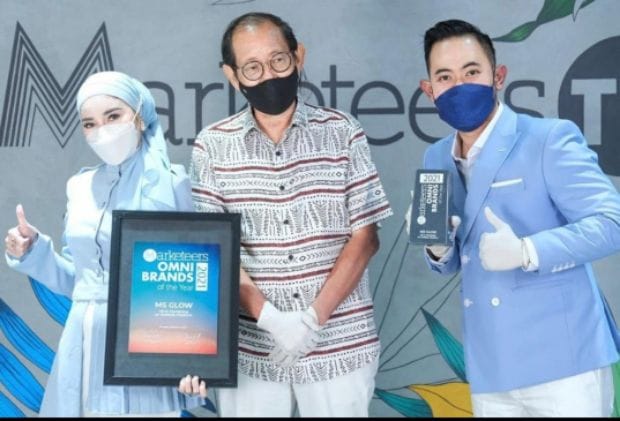 Pasangan pengusaha Gilang Widya Pramana atau yang akrab disapa Juragan 99 bersama istrinya, Shandy Purnamasari mengawali bisnis sejak tahun 2013. Meski tidak terlalu lama, namun perkembangan perusahaan yang berawal dari bisnis kosmetik MS Glow Beauty  tersebut berkembang pesat. Kini, siapa sangka klinik MS Glow berkembang menjadi  12 cabang di kota-kota besar, bahkan sampai ke luar negeri. Terbaru, ekspansi membuka klinik di Bogor, Jawa Barat pada awal September 2021.
Pada Kamis, 9 September 2021, merupakan hari kebanggan bagi Shandy dan Gilang karena MS Glow Beauty telah berhasil meraih penghargaan dalam kategori all-in marketing on multiple platform di acara Marketeers Omni Brands of The Year 2021. Dan MS Glow Beauty sudah mendapatkan penghargaan ini selama dua tahun berturut-turut.
Penghargaan ini diterima langsung oleh Gilang dan Shandy yang diserahkan oleh Hermawan Kartajaya sebagai Pendiri MarkPlus Inc dan Asia Marketing Federation. "Alhamdulillah dua tahun berturut-turut MS Glow mendapatkan Awards Marketeers Omni Brands," ujar Gilang.
Penghargaan ini diberikan bagi perusahaan yang mampu mengintegrasikan dua dunia, yaitu offline dan online dengan baik. Gilang juga berharap agar MS Glow Beauty bisa terus tumbuh secara agresif, selalu ada value lebih di setiap produknya dan tentunya selalu menghadirkan produk terbaru yang mengikuti tren.
Gilang mengaku, MS Glow Beauty selalu memaksimalkan produk-produknya dengan menggunakan bahan-bahan yang aman dan tidak mengandung merkuri berbahaya. Begitu juga dengan klinik-klinik MS Glow Beauty yang dibangun, mereka menggunakan alat-alat yang memiliki kualitas.
"Jika saya gambarkan, MS Glow Beauty itu ibaratnya klinik kecantikan selera tinggi ekonomi pas-pasan. Sebab, ide awal berdirinya adalah ingin ada klinik kecantikan yang kualitasnya Eropa dengan peralatan highend, tapi harganya tidak mahal," tegas Shandy.
www.swa.co.id