Sebuah ide kota humanis yang diperkenalkan oleh AkzoNobel untuk memanfaatkan kekuatan warna dan membawa energi positif bagi warga urban di dunia untuk hidup lebih baik. Ide kota humanis bertujuan membantu menciptakan kedekatan emosional antara masyarakat urban dengan kota tempat tinggalnya yang berfokus pada enam pilar – warna, bangunan bersejarah, sistem transportasi, olahraga dan hiburan, pendidikan, serta pembangunan yang berkelanjutan.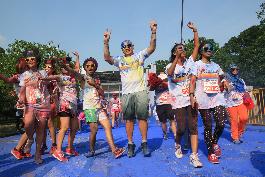 Ide tersebut direalisasikan dengan berpartisipasi dalam kegiatan lari unik dan menyenangkan 'The Colour RunTM Jakarta, sebuah acara yang mengajak para peserta untuk berlari sambil ditaburi bubuk warna warni.
" The Colour RunTM memiliki kesamaan dalam misi kepribadian, pesona, daya tarik, dan sasaran dengan Dulux. Selain itu, The Colour RunTM juga berkaitan dengan ide kami tentang kota Humanis yang baru saja kami luncurkan tahun ini. Melalui The Colour RunTM, Dulux menginginkan masyarakat Jakarta dapat merasa lebih dekat secara emosional dengan kota mereka melalui penggunaan ruang publik untuk olah raga dan rekreasi sambil menikmati energy positif warna," ujar Jun De Dios, Presiden Direktur PT ICI Paints Indonesia (AkzoNobel Decorative Paints Indonesia.
The Colour RunTM memang sangat berkaitan dengan ide Dulux tentang kota humanis yang baru diluncurkan tahun ini. Sebagai sponsor warna resmi The Colour RunTM Jakarta, Dulux akan menjadi tuan rumah salah satu zona serta kolaborasi dalam berbagai aktivitas dan area The Colour RunTM Jakarta.
"Kami  percaya The Colour RunTM akan meraih sukses lebih di Jakarta, dengan meningkatnya popularitas kegiatan lari di Indonesia, terutama di Jakarta, kota dengan masyarakat yang sangat dinamis. Acara ini menayajikan pengalaman lari yang paling berwarna dan unik, yang ternyata sesuai dengan ide Kota Humanis AkzoNobel," tutup Jun. (EVA)