Professor Neuroscience, Justin Kennedy, dari Universitas Pretoria, Afrika Selatan mengatakan bahwa dengan pengetahuan dan pelatihan yang tepat, manusia dapat menggunakan pikiran sadarnya untuk mengevolusi cara otak bekerja. Proses ini kemudian mampu menningkatkan cara manusia berpikir, cara bersikap dan cara merasa menjadi lebih baik.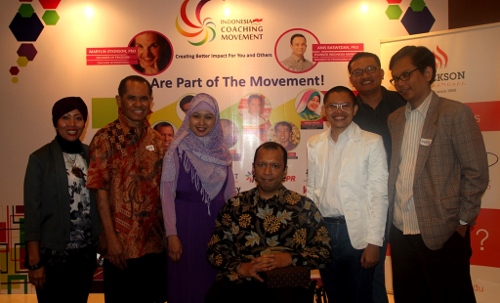 Sebuah acara bertajuk Indonesia Coaching Movement. yang pertama kali dilakukan di Indonesia dan sebagai pre event 'World Game 2016' di gelar hari ini (5/11) di Jakarta. Sebuah acara yang digagas oleh para coach yang tergabung dalam komunitas alumni Ericksonian Coach Indonesia, Coachnesia. Vanaya Institute memfasilitasi para alumni tersebut untuk mengadakan acara ini.
"Ada beberapa harapan dengan diadakan acara ini, pertama kami ingin menyosialisasikan tentang coaching adalah sebuah tekhnik, metode dan profesi yang sangat mulia. Jadi coaching ini sendiri dapat membantu orang untuk menggali potensi dalam dirinya dan dapat menemukan apa yang dia inginkan dan untuk masa depannya," kata Lyra Puspa, Founder and President, Vanaya Institute.
Kedua pengalaman, sebuah pengalaman merupakan hal terpenting. Dalam acara ini, para peserta akan diberikan coaching oleh para alumni Ericksonian Coach Indonesia, sehingga mereka mengetahui bagaimana para coach ini memberikan sebuah solusi tanpa mendatangkan masalah. Ketiga, mereka dapat membawa pulang hasil dan saat mereka pulang mendapatkan hasil, seperti leadership, apakah setelah mengikuti acara ini mereka bisa menjadi better leader dan memberikan influence serta menjadi agen of change.
Saat ini kebutuhan coaching di Indonesia masih sangat besar dan Coaching di Indonesia masih sangat jauh dari standar yang ada. Coaching di dunia baru mulai ada dan dilembagakan sekitar tahun 90an di dunia, sementara di Indonesia baru masuk ada sekitar tahun 2011.
"Kami termasuk pendiri Internasional Coach Federation Chapter Indonesia pada tahun 2011, kemudian pada tahun 2012 kami mendatangkan Ericksonian. Sehingga saat ini di Indonesia masih sangat sedikit sekali jumlah coach yang ada," tutup Lyra. (EVA)