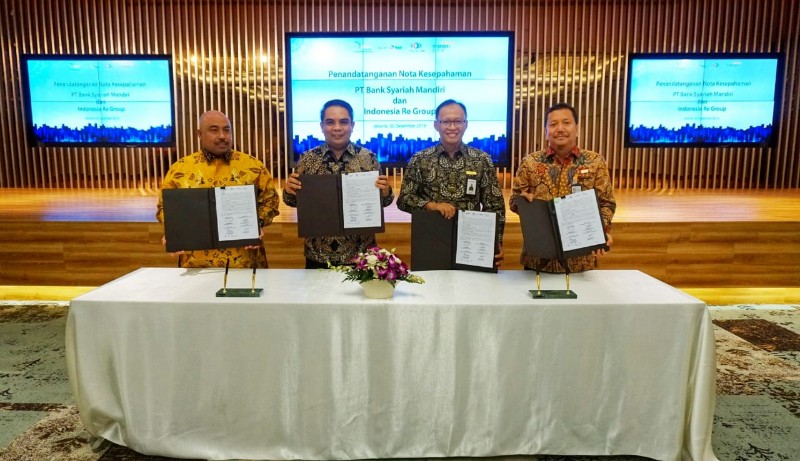 PT Bank Syariah Mandiri (Mandiri Syariah) menandatangani Memorandum of Understanding (MoU) dengan PT Reasuransi Indonesia Utama (Indonesia Re Group) berikut dua perusahaan anaknya, yakni PT Asuransi ASEI Indonesia, dan PT Reasuransi Syariah Indonesia. MoU meliputi pemanfaatan produk layanan Perbankan Syariah baik untuk kebutuhan financing maupun funding.
Penandatanganan dilakukan Senior Executive Vice President (SEVP) Distribution and Sales Mandiri Syariah Anton Sukarna dengan Direktur Keuangan dan SDM Indonesia Re Group Imam Bustomi, Direktur Utama Reindo Syariah Syahroni dan Direktur Utama ASEI Eko Supriyanto Hadi di Kantor Pusat Mandiri Syariah Thamrin, Jakarta 30/12.
Anton Sukarna menjelaskan, kerjasama ini merupakan pertama kalinya bagi Mandiri Syariah. Mengusung spirit yang sama yaitu implementasi nilai-nilai syariah, ia optimis sinergi ini dapat berkontribusi meningkatkan perekonomian syariah di Indonesia.
"Kami siap menyediakan berbagai layanan baik pembiayaan investasi, pembiayaan modal kerja maupun cash management dengan prinsip syariah untuk Indonesia Re Group, perusahaan anak dan lingkungannya," tambah Anton.
Ia berharap, ke depan kerjasama layanan jasa dan produk Mandiri Syariah seperti pembiayaan rumah (Griya Berkah), pembiayaan kendaraan (Kendaraan Berkah), pembiayaan pensiunan, umroh, haji, gadai dan cicil emas, pengembangan usaha, dan lain-lain dapat mengakomodir kebutuhan para karyawan Indonesia Re-Group.
"Kami optimistis produk layanan Mandiri Syariah dapat mengakomodasi keinginan Indonesia Re Group dan karyawannya untuk berbank syariah. Semoga kerjasama ini menjadi berkah untuk semua pihak" tuturnya.