Ikatan Duta Budaya dan Pariwisata Indonesia (IDBUDARINDO) dan Kementerian Pariwisata dan Ekonomi Kreatif (Kemenparekraf) memberikan penghargaan Cultural Award kepada salah satu produk unggulan Nutrifood, NutriSari, dalam acara IDBUDPARINDO Conference & Expo 2013. IDBUDARINDO dan Kemenparekraf menganggap sub-brand NutriSari, NutriSari W'Dank turut berperan dalam melestarikan budaya dan tradisi Indonesia.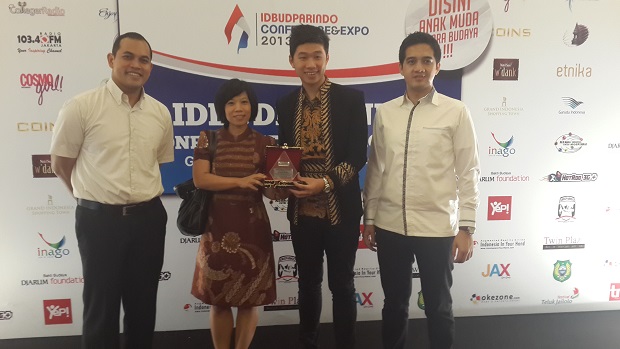 (Kiri - Kanan) Taufan E.N. Rotorasiko (Ketua KNPI), Susana (Nutrifood Head of Marketing), Andre Binarto (Nutrifood Brand Executive), Doddy Matondang (Ketua IDBUDPARINDO)
Saat ini baru terdapat varian sari jahe pada NutriSari W'Dank. Ke depannya, NutriSari berencana untuk menambah varian minuman tradisional khas Indonesia lainnya. "Penulisan "W'Dank", bukan "Wedang", bertujuan untuk mendekatkan minuman tradisional dari berbagai daerah di Indonesia dengan generasi muda.", ujar Nutrifood Head of Marketing, Susana.
IDBUDPARINDO Conference & Expo (ICE) 2013 berlangsung pada tanggal 11-12 Mei 2013 di Grand Indonesia ini merupakan wadah nasional para duta budaya dan pariwisata yang tersebar di seluruh Indonesia. Penyelenggaraan ICE 2013 merupakan wujud bakti generasi muda Indonesia pemerhati budaya dan pariwisata dengan semangat persatuan untuk kemajuan duta-duta budaya dan pariwisata, yang diharapkan dapat menjadi ajang bagi masyarakat untuk lebih mengenal berbagai daerah di Indonesia. ICE 2013 terdiri dari beberapa rangkaian event, seperti One Youth One Tourism Campaign, Awarding Night (penghargaan untuk pihak-pihak pendukung budaya pariwisata), Community Talk, dan Teatrikal Abang None Jakarta "Sukma Djaja" .(EVA)