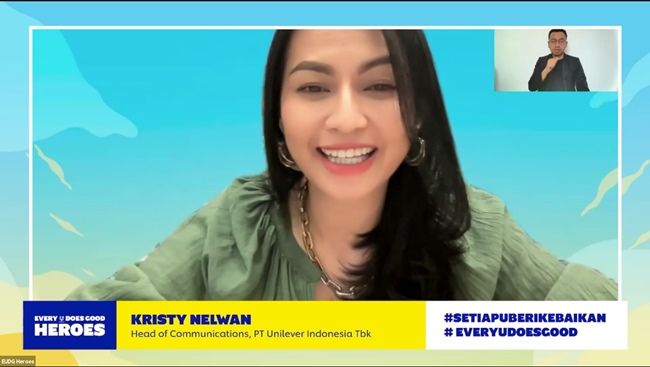 Penyelenggaraan program 'Every U Does Good Heroes' oleh Unilever Indonesia Tbk (Unilever) telah menyaring 100 peserta. Para peserta ini nantinya akan mendapatkan mentoring virtual dari Unilever Indonesia serta lima inspiring mentor yang andal di bidang lingkungan, kesehatan, dan sosial/masyarakat.
Sebanyak 100 peserta terpilih adalah mereka yang memiliki gagasan sesuai pilar kebaikan program ini, yaitu membangun planet yang lebih lestari, meningkatkan kesehatan dan kesejahteraan masyarakat, dan berkontribusi kepada masyarakat yang lebih adil dan inklusif.
Head of Communication Unilever Kristy Nelwan menjelasn, program mentoring ini merupakan bagian dari rangkaian kampanye 'Every U Does Good' dari Unilever yang telah diluncurkan pada 18 Agustus lalu. "Program ini guna mengajak konsumen berbuat kebaikan dengan cara yang sederhana, yaitu dengan lebih bijak memilih brand atau produk yang mampu memberi manfaat pada lingkungan dan masyarakat," tuturnya.
Nantinya, akan ada dua program mentoring, yaitu The Purpose dan The Journey. Pada The Purpose, peserta akan mendapatkan materi tentang pengimplementasian sebuah purpose menjadi sebuah gerakan yang memiliki dampak bagi sekitar. Sedangkan The Journey akan menghadirkan pelatihan yang berfokus pada pada pengembangan cara berpikir, menjadi problem solver, hingga materi-materi seperti mindset setting, resilience, strategic thinking, sustainable business, project management, funding, hingga eksekusi.
Program pembekalan kepada 100 peserta ini akan berlangsung mulai 26 Oktober – 29 November 2021. Sederet mentor yang berpartisipasi yaitu Mohamad Bijaksana Junerosano (CEO & Pendiri Waste4Change), Helga Angelina Tjahjadi (Pendiri Burgreens & Green Rebel Foods), Stevia Angesty (Co-founder Feelwell Ceramics), Ayu Kartika Dewi (Staf Khusus Presiden RI & Co-founder Toleransi.id), dan Nicky Clara (Disability Womanpreneur).
Editor : Eva Martha Rahayu
www.swa.co.id