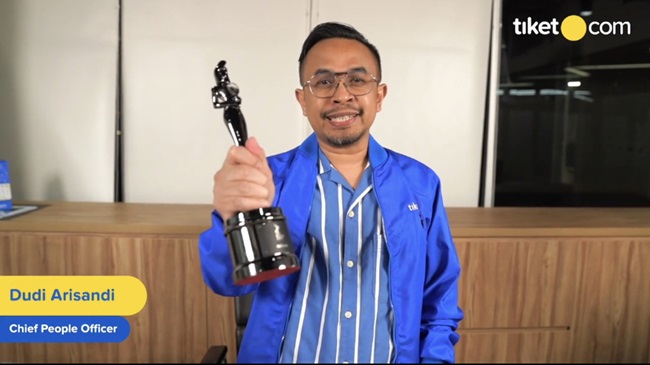 Tiket.com mendulang dua penghargaan yaitu HRAsia Best Company to Work for In Asia 2021 untuk kedua kalinya dan HRAsia WeCare Awards 2021 untuk pertama kalinya. HRAsia Best Companies to Work for in Asia Awards adalah program penghargaan bagi perusahaan yang memperoleh predikat terbaik untuk bekerja. Sedangkan WeCare Award adalah penghargaan kepada 3 perusahaan teratas yang menerapkan program keterlibatan dan kesejahteraan karyawan terbaik di Asia. Perusahaan yang bekerja keras untuk melayani kebutuhan karyawan selama pandemi berlangsung.
Chief People Officer Tiket.com Dudi Arisandi menyampaikan, kesejahteraan karyawan, mulai dari fisik, kesehatan mental, finansial, dan sosial terus menjadi fokus utama perusahaan. Di tengah tantangan pandemi, team people meluncurkan banyak inisiatif agar tetap saling terhubung dan mendukung satu sama lain seperti BCP Committee, learning & people engagement ke online.
"Team people Tiket.com terus menginisiasi program-program untuk membangun Employe Experience yang menyangkut setiap aspek pengembangan sumber daya manusia, mulai dari recruitment proses sampai karyawan menjadi alumni perusahaan," ujarnya
Tiket.com juga memberikan dukungan sepenuhnya bagi karyawan untuk mengembangkan bakat demi personal growth melalui rangkaian program virtual dari Udemy dan Coursera sehingga karyawan dapat mengambil jenis course sesuai keinginan dan tujuan pribadi.
Editor : Eva Martha Rahayu
www.swa.co.id