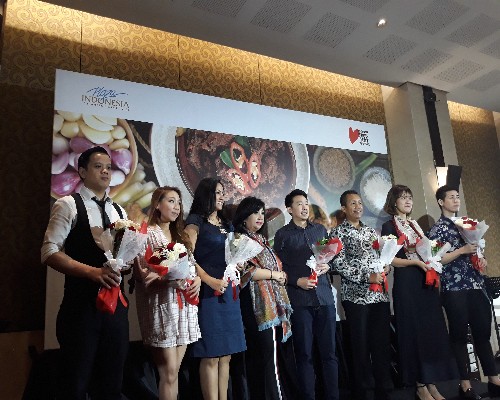 Memeriahkan hari kemerdekaan Republik Indonesia yang ke-73 tahun, Plaza Indonesia (PI) menghadirkan tema besar I Love Indonesia. Tema ini berlangsung sepanjang bulan Agustus dan dijalankan lewat program Indonesia Food and Art Festival. Kegiatan ini bertujuan untuk memberikan apresiasi dan pelestarian budaya kuliner nusantara serta ruang kreasi kepada pelaku seni.
Stella Kodong, General Manager Tenant Commercial Relations, Customer Service, SOA PT Plaza Indonesia Realty Tbk., menjelaskan, kegiatan ini adalah yang kedua kalinya. "Kami ingin mengulang sukses tahun lalu, kali ini kegiatannya juga memiliki misi sosial yakni berbagi dengan sesama melalui Lions Club International," jelas Stella saat membuka acara.
Lions Club International sendiri adalah yayasan sosial, saat ini di Indonesia sedang fokus mensosialisasikan imunisasi campak dan membantu anak-anak penderita kanker fdari keluarga kurang mampu.
Program Indonesia Food and Art Festival menghadirkan dua kegiatan yaitu Cita Rasa Indonesia Feast yang bekerjasama dengan 53 outlet makanan dan minuman untuk memperkenalkan kreasi kuliner Nusantara.
Menurut Stella, menu-menu yang ditawarkan selama gelaran ini berlangsung adalah signature dish dari masing-masing tenant yang merupakan kreasi dari resep asli Indonesia. "Kami melihat industri kuliner lokal sedang mendapat respon positif dari masyarakat dan ini memberi dampak bagi pelestarian kuliner, industri dan ekonomi," jelas Stella.
Program ini juga menampilkan pameran seni Millenial Dopamine Art Cofner yang menggandeng seniman muda Tempa & Rato Tanggela.
Editor : Eva Martha Rahayu
www.swa.co.id