Penyedia pameran dekorasi dan interior rumah, Homedec, kembali diselenggarakan di Indonesia untuk ketiga kalinya. Seperti tahun sebelumnya, Homedec diadakan di Indonesia Conference and Exhibition (ICE), BSD City, Serpong selama 4 hari mulai dari tanggal 28 September-1 Oktober 2017.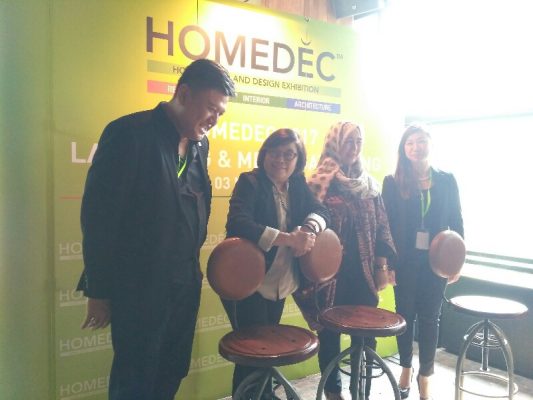 Berbeda dengan tahun-tahun sebelumnya, Homedec kali ini memberikan terobosan dan nuansa terbaru yaitu dengan mengusung tema "Ideas to Reality". Dengan konsep Renovation-Interior-Architecture memberikan cita rasa yang berbeda di Homedec 2017. Ada ruang dan peluang baik untuk para pemilik rumah maupun peserta pameran untuk menampilkan desain yang inovatif dan koleksi terbaru untuk memenuhi kebutuhan konsumen.
"Masifnya perkembangan dan kebutuhan akan solusi renovasi dan pembangunan hunian di wilayah Jakarta dan Tangerang, memicu kami untuk terus berinovasi dengan memberikan value-added service kepada para peserta pameran,"ujar Andri Hermawan, Sales Director CIS Exhibition.
Pada tahun lalu, Homedec diisi lebih dari ratusan merek lokal dan internasional. Merek-merek tersebut mengisi sekitar dari 250 stan . Sementara untuk Homedec kali ini ditargetkan aka nada 400 stan yang akan memenuhi area pameran. Berdasarkan angka tersebut, Andri yakin target pengunjung sebanyak 23.000 orang dapat terpenuhi dalam 4 hari.
Sebagai daya tarik, Homedec sengaja dibuka untuk umum dan gratis biaya masuk serta akan banyak gimmick dan promosi menarik untuk meningkatkan gairah belanja pengunjung sehingga penjualan produk meningkat.
Tahun ini Homedec juga menargetkan peningkatan nilai transaksi dari Rp 23 miliar pada tahun lalu menjadi Rp 30 miliar tahun 2017 ini. "Kami optimistis target ini tercapai, kami melihat pertumbuhan properti tetap stabil dan permintaan kebutuhan dekorasi rumah juga meningkat," jelasnya.
Adapaun perabotan yang tersedia di pameran ini, mulai dari furniture & furnishing, kitchen cabinet & appliances, tableware, electronic/audio visual, lighting, home security, window & door, flooring dan lainnya.
Editor : Eva Martha Rahayu