Hari ini McDonald's Indonesia memperkenalkan menu olahan ikan terbaru. Menu terbaru ini diharapkan bisa menjawab penggemar McDonald yang suka sajian olahan dari ikan. Menu ini memberikan pilihan baru untuk burger, rice dan fish bites. Varian menu Fish Fiesta ini terdiri dari Spacy Mayo Fish Fillet Burger, Fish Bites with spicy Thai sauce sricacha, Sweet and sour fish rice serta kombinasi minuman Lime frizz yang segar. Menariknya menu baru dari McDonald ini ikannya dari Danau Toba Sumatera Utara.
Sebelumnya McDonald sudah memiliki menu ikan yang diolah dari ikan Alaska Pollock yaitu Fillet O Fish. Sayangnya, ikan dari perairan Atlantik ini tidak bisa lagi diimpor ke Indonesia. "Kami kemudian mencari pemasok yang bisa menyediakan ikan yang rasa dan teksturnya mirip ikan Alaska Pollock, setelah berbulan-bulan dilakukan trial, dipilihlah ikan Tilapia dari Danau Toba Sumatera Utara itu," ungkap Sutji Lantyka. Associate Director Marketing and Communication McDonald's Indonesia. Ikan Tilapia ini sebenarnya mirip ikan nila, hanya saja teksturnya lebih lembut.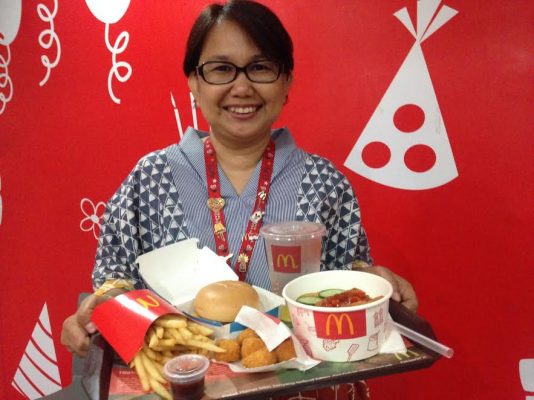 Penggantian penggunaan bahan ikan ini membuat pihak McDonald's Indonesia tidak boleh menggunakan nama Fillet O Fish. Karenanya rangkaian menu ini diberi nama baru sebagai Fish Fiesta di McDonald. Menu ini bisa dibilang merupakan inovasi dari tim produk yang berada dibawah Departmen Marketing dan Operasional McDonald's Indonesia. "Kami selama beberapa bulan mempersiapkan menu ini. Ada tim khusus untuk pembuatan menu baru. Setelah jadi, kami harus mendapat approval dari McDonald pusat," tutur wanita yang akrab disapa Echi ini.
Ia menjelaskan di McDonald ada beberapa tipe menu. Menu yang harus ada di semua resto McDonald di seluruh dunia yaitu Cheese Burger dan Big Mac; lalu ada menu core lokal seperti di Indonesia ada Paket Nasi, serta menu limited time over. Fish Fiesta ini merupakan menu limited time over, yang hanya hadir pada periode tertentu. Menu baru ini menurut Echi hanya ada di jam 11 siang hingga 5 sore dan periode 28 April hingga 4 Juni 2017 saja. "Menu limited time over ini sebenarnya bisa juga menjadi test the market, jika diperlukan akan menjadi menu tetap kami," imbuhnya.
Editor : Eva Martha Rahayu