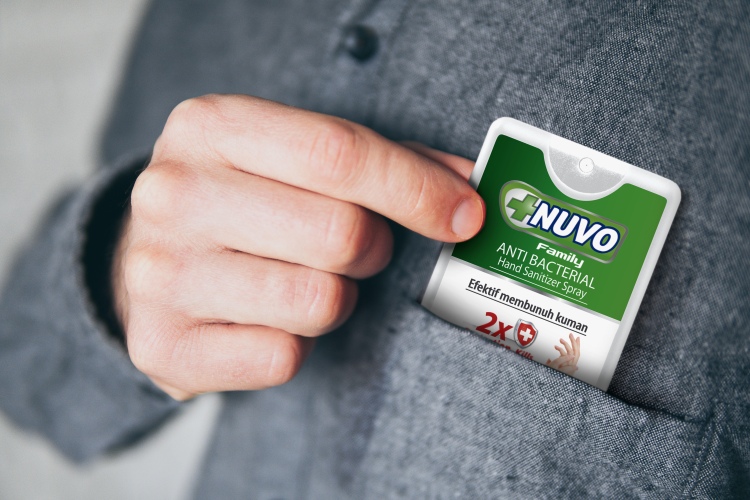 Nuvo melakukan terobosan baru dalam lini hand sanitizer dengan menghadirkan Antibacterial Hand Sanitizer Spray. Kehadiran produk ini diyakini sebagai salah satu jawaban atas kebutuhan masyarakat Indonesia yang kini lebih sadar akan pentingnya menjaga sanitasi diri khususnya untuk mencegah penyebaran virus Covid-19.
Terobosan baru lainnya, kemasan pocket size dengan spray yang lebih praktis, sehingga mudah dibawa ketika sedang berpergian karena ukurannya yang mudah dimasukkan ke dalam saku.
Merry Christanty, Brand Manager Nuvo Family mengatakan, produk sanitasi tangan berbasis alkohol ini telah lulus uji dan diklaim dapat membunuh kuman dan bakteri hanya dalam waktu 10 detik.
"Dengan adanya inovasi baru yang dapat efektif membunuh kuman dan bakteri hanya dalam 10 detik, pembersih tangan berbasis alkohol 70% ini juga aman digunakan untuk kulit sensitif karena dilengkapi oleh extra moisturizer untuk menjaga kelembaban kulit. Selain itu, tangan tidak akan terasa lengket karena cairannya cepat kering di tangan," ujarnya.
Hand sanitizer ini hadir dalam 3 varian yang sama seperti varian Nuvo hand sanitizer sebelumnya, yakni Cool Breeze, Fresh Blossom dan Spring Nature yang dikemas dalam kemasan 18ml dan dapat digunakan hingga 250 kali penggunaan. Produk hand sanitizer spray ini juga telah mengantongi sertifikat halal dari Majelis Ulama Indonesia .
"Sesuai dengan anjuran WHO, rutin mencuci tangan dengan air bersih merupakan salah satu kunci pencegahan penyebaran virus Covid-19. Namun, ada kalanya ketika kita kesulitan mendapatkan akses mencuci tangan dengan sabun dan air mengalir, maka penggunaan hand sanitizer dapat menjadi pilihan utama Anda," tuturnya.
Merry juga menambahkan bahwa dengan meningkatnya permintaan hand sanitizer selama masa pandemi Covid-19, maka kehadiran produk hand sanitizer baru ini merupakan wujud dari filosofi WINGS Group yaitu all the good things in life should be accessible for everyone.
"Kami meyakini kehadiran produk ini dapat memenuhi kebutuhan masyarakat serta mudah dijangkau. Dengan demikian, kiranya masyarakat semakin peduli akan kebersihan diri demi menjaga kesehatan dan terhindar dari virus atau bakteri yang mudah menyebar dan menempel di seluruh permukaan di sekitar kita," ujar Merry.
Editor : Eva Martha Rahayu
www.swa.co.id