Setelah tahun 2014 memperkenalkan Mini Me dan kapsul Milo, serta bekerja sama dengan seniman Asia menghadirkan edisi terbatas Genio Asian Desain, tahun ini Nescafe Dolce Gusto hadir dengan desain terbaru edisi terbatas Genio Billy the Artist yang dirancang oleh seniman graffiti New York ternama dengan desain yang fun, colorful dan joyful serta Genio MINI yang dirancang bekerja sama dengan merek mobil MINI.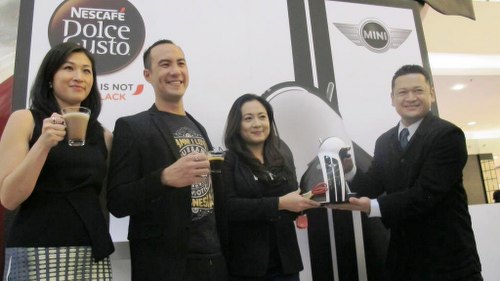 "Setiap tahun kami selalu menghadirkan varian dan desain terbaru Nescafe Dolce Gusto untuk memberikan yang terbaik bagi konsumen di Indonesia. Setelah setahun lalu kami menggelar lomba untuk Asian Desain, tahun ini kami menggandeng seniman graffiti asal Amerika Billy the Artis dan produsen otomotif Mini," jelas Irmawati Praharsi, Marketing Manager, Nescafe Dolce Gusto.
"MINI merupakan brand yang menarik, energik dan mengasyikkan dikombinasikan dengan desain yang menyentuh emosi dan otentik. Brand MINI lebih dari sekadar mobil dan teknologi inovatif – MINI merupakan sebuah gaya hidup!" ujar Jodie O'tania, Head of Corporate Communications BMW Group Indonesia.
Jodie menambahkan, dengan menghadirkan dua garis hitam dan logo khas MINI pada mesin Nescafe Dolce Gusto, kami telah menambah kenikmatan seni kopi modern, serta menawarkan sebuah pengalaman artistik baru bagi para pecinta MINI.
Sama seperti di tahun pertama mengeluarkan edisi terbatasnya, kali ini Nescafe Dolce Gusto juga hanya memproduksi 200 unit untuk desain MINI dan Billy the Artist. Edisi ini juga hanya akan dijual selam tahun 2015 dan tidak akan diproduksi ulang dengan harga Rp2,7juta. (EVA)