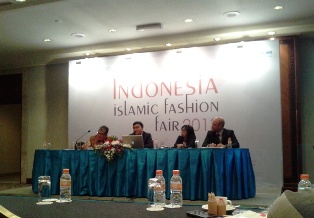 Para pembicara seminar "Identify Your DNA, Branding and Marketing for Fashion Business"
Pasar konsumen muslim dunia mulai meraksasa. Berjumlah 2 miliar jiwa di seluruh dunia, umat muslim memiliki daya beli sebesar US$ 2 triliun selama 3 tahun terakhir, sebagaimana dipantau lembaga konsultansi branding Islami, Ogilvynoor yang berpusat di London. Adapun Indonesia sudah memiliki amunisi 207 juta penduduk Muslim.
Ada sejumlah sektor yang memanfaatkan perbesaran pasar konsumen muslim. Salah satunya adalah mode. Sektor yang sangat asosiatif dengan kaum perempuan ini mengkontribusikan US$ 96 miliar per tahun di seluruh dunia. Sementara itu, produk kecantikan, perawatan, dan kosmetik mengkontribusikan US$ 13  miliar per tahun.
Supaya bisa maksimal memanfaaatkan kesempatan emas ini, ada 2 hal yang patut diwaspadai. Penipuan (fraud) dan buruknya pengelolaan aset dan keuangan. Keduanya sering membikin bisnis mode rontok. "Maka, jangan sungkan menagih pembayaran dari distributor," saran Salman Subakat, Marketing Manager PT Paragon Technology and Innovation, sebagai salah satu cara menjaga kesehatan arus kas (1/6).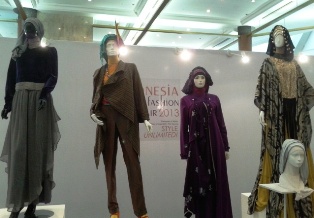 IIFF 2013
Dia menganjurkan, pengusaha mode muslim mesti memilih besaran bisnis (business size) yang tepat dulu. Berikutnya, gunakanlah fashion sebagai sarana memperluas jejaring bisnis. Kemudian saat menghadapi konsumen, yang penting adalah merepresentasikan brand.
"Kalau Anda menolak memakai merek, sebenarnya itu merupakan cara merepresentasikan merek juga. It's a 'no-brand' brand," tegas Salman di hadapan para peserta seminar Identify Your DNA, Branding and Marketing for Fashion Business. Ia optimis, banyaknya kemiripan antara 1 merek dengan yang lain tidak perlu menghalangi upaya desainer pemula untuk membangun mereknya sendiri. (EVA)