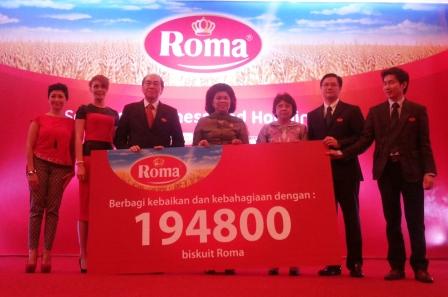 Membangun sebuah merek tentulah tak mudah, apalagi bila mereknya bisa menjadi top of mind bagi pelanggan. Kerja keras biskuit merek Roma yang dibangun sejak tahun 1948 sudah membuahkan banyak hasil. Buktinya berdasarkan data survei Nielsen yang dikeluarkan September tahun ini Roma didapuk sebagai brand biskuit terbesar di Indonesia.
Kepercayaan dan keberhasilan yang telah diraih selama ini rupanya membuat Roma terbuka terhadap sebuah perubahan. Perubahan besar ini dilakukan pada penggantian logo dan tagline. "Perubahan logo baru Roma ini merupakan bentuk dari dedikasi, semangat, dan komitmen kami," ujar Ricky Afrianto, Direktur Pemasaran Mayora Group.
Langkah besar yang diambil oleh Roma ini juga menunjukkan kalau Roma terus tetap berkembang dan terus ingin menjadi brand terdepan di kelasnya. Tagline barunya yang berbunyi "Serving Goodness and Hapiness" merefleksikan keingin Roma untuk tetap memberikan yang terbaik bagi para konsumen setianya.
Dalam acara peluncuran logo dan tagline baru, Roma juga menyerahkan 194.800 keping biskuit kepada Linda Amalia Sari Gumelar, SIP selaku Menteri Negara Pemberdayaan dan Perlindungan Anak.Sebagai produsen biskuit Roma, Mayora sebagai induk perusahan juga terus berkomitmen untuk memberikan yang terbaik untuk konsumen Indonesia. Tak hanya itu saja produk ini juga telah diekspor ke 85 negara.
"Selain digemari oleh keluarga Indonesia, biskuit kami juga digemari di luar negeri bahkan bisa dibilang biskuit Roma masih mendominasi pangsa eksport kami," jelas Ricky. (EVA)