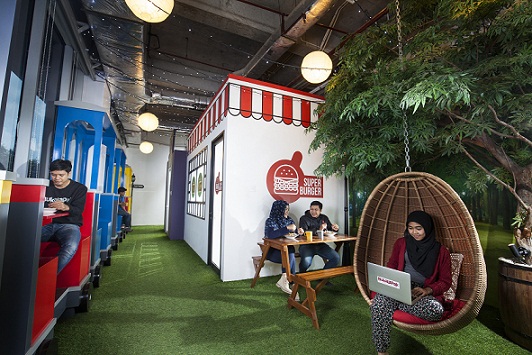 Tiket pameran dan konser  Big Bang Jakarta 2018  yang berlangsung sejak  21 Desember 2018 - 1 Januari 2019 di Jakarta International Expo Kemayoran, Jakarta Pusat, juga dijual melalui marketplace Bukalapak.
Ari K. Wibowo, Associate Vice President of Brand Bukalapak, mengatakan para calon pengunjung bisa mendapatkan tiket masuk ke acara tersebut di aplikasi Bukalapak baik Android maupun iOS. "Melalui aplikasi Bukalapak, para calon pengunjung dapat membeli tiket masuk secara online untuk menikmati berbagai pameran dan hiburan yang dihadirkan untuk seluruh anggota keluarga." jelasnya.
Ari juga menambahkan,  Big Bang Jakarta 2018 ini bisa dinikmati oleh seluruh anggota keluarga. Para tenant yang dihadirkan  beragam mulai dari kebutuhan ibu dan bayi, mainan anak hingga produk fashion dewasa.
Big Bang Jakarta 2018 menggandeng lebih dari 1.000 merek ternama dari berbagai jenis produk seperti FMCG, otomotif, elektronik, telekomunikasi, fashion dan lainnya. Diskon besar-besaran juga tetap diadakan kepada para pengunjung untuk segala produk mulai dari otomotif, perabotan, peralatan rumah tangga hingga makanan dan minuman.
Acara ini juga menyuguhkan festival musik terbesar akhir tahun yang menghadirkan sederet musisi papan atas seperti Padi Reborn, RAN, Superman is Dead, Tipe-X, Stars and Rabbit, Fourtwnty, Siti Badriah hingga Via Vallen.
"Libur panjang akhir tahun ini merupakan momen yang tepat untuk lebih mendekatkan diri dengan anggota keluarga. Bukalapak memberikan kemudahan kepada para pengguna yang ingin berkunjung ke Big Bang Jakarta 2018 dengan menyediakan fitur pembelian tiket acara secara online," ujar Ari.
Editor : Eva Martha Rahayu
www.swa.co.id