Lewat ajang Jakarta Fashion Week (JFW)  2014, The Body Shop Indonesia mempromosikan rangkaian make up terbarunya, yakni Colour Crush Collection. Tampilan warna-warna yang cerah dan berani diprediksi bakal menjadi tren make up ke depan.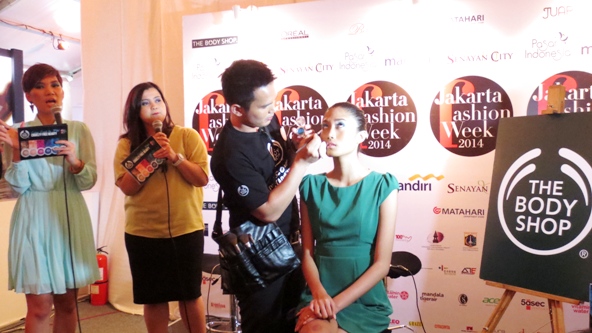 The Body Shop Colour Crush Collection (foto by: Lila Intana)
"JFW merupakan tempat yang paling tepat untuk memperkenalkan tren warna make up terbaru kami, sebab ajang ini menjadi parameter tren mode dan kami ingin membawa tren make up baru. Di sini kami tampil sebagai official make up dan make up artist," kata Ratu Ommaya, PR and Values Manager The Body Shop Indonesia.
Maya menjelaskan, Colour Crush Collection hadir dengan 100% cruelty free, 100% vegetarian dan 100% high impact, sejalan dengan misi brand tersebut yang mengusung tema kecintaan terhadap lingkungan.
Meski koleksi make up ini menghadirkan warna-warna terang, namun The Body Shop mengatakan produk ini bisa digunakan sehari-hari. Selama ini warna-warna cerah dan berani hanya digunakan sebagai riasan mata atau bibir untuk menghadiri acara-acara tertentu, dan jarang untuk riasan sehari-hari karena sering kali menimbulkan kesan berlebihan atau menor.
Di ajang JFW 2014, The Body Shop memberi tips dan trick bagaimana memakai make up warna-warna terang, sekaligus demo make up brand ambasadornya, artis Tina Toonita.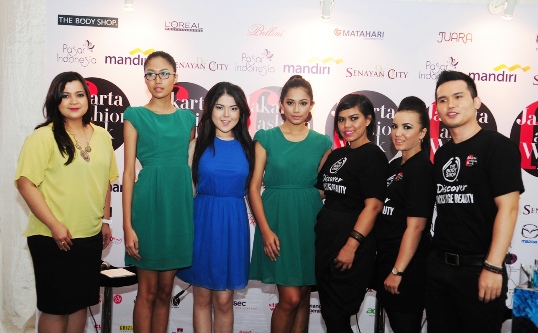 "Yang harus diingat adalah jangan pernah menggunakan warna terang yang diaplikasikan secara bersamaan di mata dan mata. Misalkan jika lipsticknya warna merah cabai, matanya bisa dibuat smokey eye," jelas make up artist, Iman Pulungan.
Colour Crush Collection terdiri dari Colour Crush Eyeshadow dan Colour Crush Lip Colour dengan pilihan warna 'ngejreng' yang dapat membuat penampilan terlihat berbeda.
Ada 30 pilihan warna Colour Crush Eyeshadow dengan jenis pearly dan matte, dari elegant beige hingga shocking bright sehingga bisa disesuaikan dengan mood pemakainya. Warna-warna ini terbuat dari pigmen warna dari Italia yang dikenal sebagai kiblat fashion colour dunia. Sedangkan, Colour Crush Lip Colour terdiri dari 24 warna yang memberikan efek segar pada wajah. (EVA)